Fralin Pure P.A.F. Humbucker Set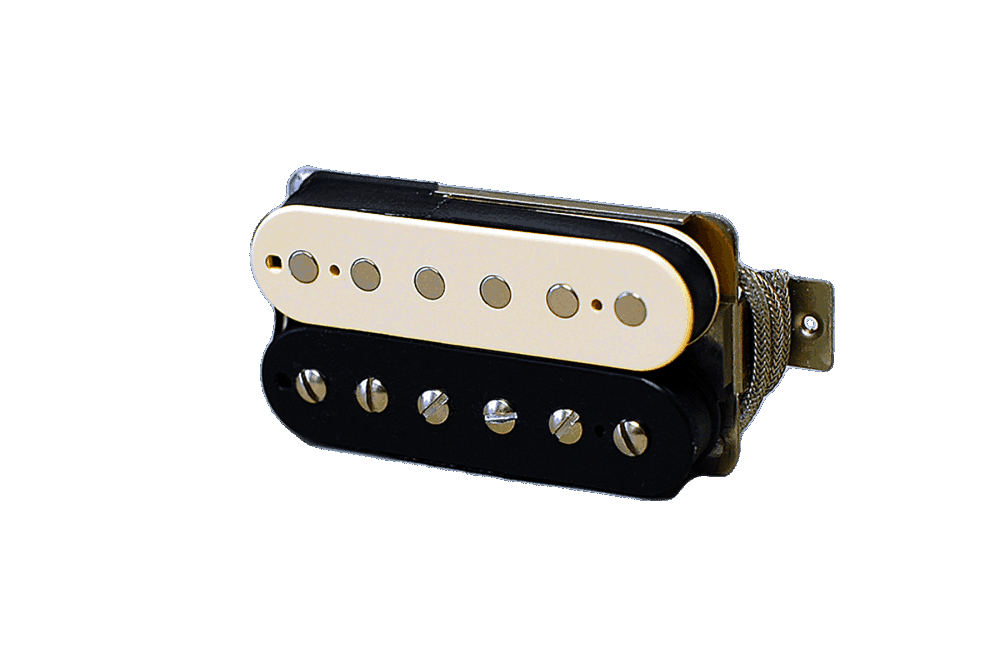 The Pure P.A.F. set is Lindy Fralin's best selling humbucker. Any guitarist worth their weight in speaker cabs has at least heard of Fralin pickups. Lindy started 30 years ago and has staffed the Fralin organization with players and genuine pickup enthusiasts.
One of Fralin's hallmarks is a "sectioning technique" that is a throwback to how pre-CBS single coils and early Gibson P.A.F.s are found to have randomly layered windings. That means that a "section" might have so many turns per layer and another "section" might have a different number of turns per layer.
I did commission a pickup from a different winder a few years back. We were discussing a very open, clear P.A.F. heard on so many of the 70s guitar-centric songs. This very technique was used and gave an excellent result. In some circles, I think this might pass for what's being called "scatterwinding". Or not. Just saying.
The Pure P.A.F. is spoken of with considerable reverence among the most elite tone sniffers of the Les Paul communities. The players that buy a modern Les Paul and think that a Gibson humbucker won't cut the mustard. The Fralin Pure P.A.F. is consistently among the handful at the top of the list of replacement options.
For this exercise, I put the Pure P.A.F. in a double hum guitar with a rosewood fretboard. Each pickup utilizes 4-conductor wiring and is connected to switching for independent series/split/parallel operation. The rest of the harness contains Bourns 500k pots, a Switchcraft 3-way toggle, and a Switchcraft jack. During the pickup install, I hit the frets and fretboard with some Lizard Spit Fret Polishing Pads and Fret Board Conditioner. 
Out of the gate, I find the Pure P.A.F. to be polite and utilitarian. The job is to faithfully convey the tone, and these pickups do that well. The bridge position is articulate and clear, where the neck is a little more full.
The overall voice of the Pure P.A.F. has a bit of a bump in the mids. When you look at (or rather, when you hear! lol!) the typical P.A.F. tone curve, this boils down to you getting a bit more of a flat response than the contemporaries. For an idea, lay your ears on these samples:
You might be noticing "stock output" noted on that sound clip. Are there other options? Yes, there are. When ordering from the Fralin website, you can selected how hot you want the wind, as well as bobbin color, pole spacing, type of lead wire, and cover options.
Let's check out a video demo comparing the Pure P.A.F.
How about some specs:
Pure P.A.F. Bridge
Series – 8.383 K
Inductance – 4.886 H
Screws – 4.189 K
Slugs – 4.189 K
Parallel – 2.093 K
Magnet – Alnico 2
Pure P.A.F. Neck
Series – 7.886 K
Inductance – 4.412 H
Screws – 3.942 K
Slugs – 3.94 K
Parallel – 1.97 K
Magnet – Alnico 2
How about that? Pretty darned evenly matched coils in each position. There's a part of me expecting more difference in the inductance, but we have to remember the old P.A.F.s out of Kalamazoo were not calibrated for a specific position, so it lends credibility to Lindy's approach.
As with all P.A.F. replicas and/or recreations, it is a matter of personal preference. There are quite probably more P.A.F. replicas on the market than all of the P.A.F. humbuckers made in 1959. And the consistency in materials from 60 years ago was all over the place. Also consider that the P.A.F. pickups we enjoy hearing on our favorite songs from the mid-to-late-70s were only 15-20 years old at that time. Players will compare the currently available P.A.F. options all the live-long day. It will always come down to what sounds good to your ear.
Fralin Pure P.A.F. humbuckers get excellent marks among customers. The staff is great about taking questions and working to get players going in the right direction. There's also a 10-year warranty on manufacturing issues to give peace of mind.
For reference, this Lindy Fralin Pure P.A.F. humbucker pickup set evaluation was conducted with a Fractal Axe-Fx II XL+ featuring Celestion Impluse Responses and Fractal MFC-101 MIDI Foot Controller. Real cabs used were Marshall 1960B cabs loaded with Celestion Vintage 30s and G12M Greenbacks.
Lindy Fralin Pickups Website | Facebook | Twitter | YouTube | Instagram