Alnico 4 P.A.F. Humbucker Comparison
Considering some of Alnico 4 powered humbuckers that I've reviewed over the past few months, it seems like a good time to look at them all together.  Of the three models covered here, two are sets and one is a single humbucker.  Let's look under the hood of that one first.
The DiMarzio PAF Master bridge.  Released in 2014, it got the drop on the current Alnico 4 humbucker market.  Let's take a peek at DiMarzio's demo video, featuring Paul Gilbert:
Whew!  Watching Paul Gilbert play always makes me want to hit the woodshed.  DiMarzio's own marketing really made it easy with this one, using words like snarly and thick and throaty.  No joke, that pretty much sums it up.  If you're wanting a bit of alternative to the airy characteristic associated with a P.A.F., DiMarzio's PAF Master bridge can definitely beef up your tone.  The PAF Master neck has an Alnico 5 magnet, so it's not discussed here…but the video does it justice.
PAF Master Bridge
Series – 7.69k
278 mV output
Alnico 4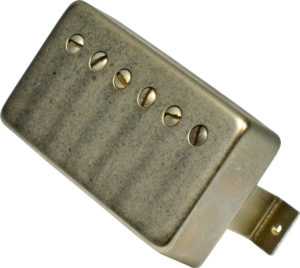 The Mojotone Hot Classic humbucker set has Alnico 4 magnets in both pickups.  This set also has the defining trait of being the only set confirmed to be represented with 42 AWG Plain Enamel used in both pickups.  If you remember the original review of this set, it really left me in awe.  Very open and transparent, possibly due in part to the slight coil offset.  The Hot Classic bridge with the Alnico 4  has an edgy sweetness in the high end with nice control in the lows.  The Classic neck really knocked me out with a big bold firm low end that was never boomy.  There is a smooth transition in voice from one position to the other.
A great thing about Mojotone is that you can get what you want, made to order for the same price that's still less than boutique costs.  Want to add a little potting or a certain look to your covers or maybe no covers or maybe a different output level?  If it's not an option at checkout, just call them.
Hot Classic Bridge
Series – 10.149k, 6.54H
Split N – 4.981k
Split S – 5.181k
Parallel – 2.538k
42 AWG Plain Enamel
Alnico 4
Classic Neck
Series – 7.688k, 4.019H
Split N – 3.434k
Split S – 4.345k
Parallel – 1.888k
42 AWG Plain Enamel
Alnico 4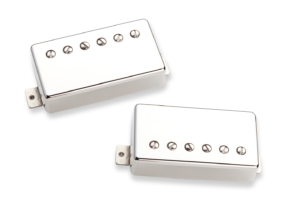 And the most recent entry is the Seymour Duncan Saturday Night Special humbucker set.  Around the time of release, this set was advertised as being wound on the Leesona.  Currently, any mention of the Leesona winder has been removed from the product description on the Duncan company website.  I know that in July 2016, there was a question about the neck model not having 42 AWG Plain Enamel that is generally expected of a P.A.F. wound on a Leesona.
The Saturday Night Special bridge model has a little more aggressive edge in the highs that's a bit of a contrast to the richness of the DiMarzio PAF Master bridge of the airy sweetness of the Mojotone Hot Classic bridge.  As in my original evaluation, there is more of a jump in voicing from one position to the other.  The neck model has that characteristic Duncan neck humbucker voice, just a little more controlled.
Bridge
Series – 9.787k, 5.841H
Split N – 4.966k
Split S – 4.829k
Parallel – 2.446k
42 AWG Plain Enamel
Alnico 4
Neck
Series – 7.27k, 3.444H
Split N – 3.643k
Split S – 3.617k
Parallel – 1.8147k
42 AWG Poly
Alnico 4
Now, there are literally hundreds of boutique shops out there and I'm guessing you can get many of them to wind you something like this.  And I can dig that.  This is me trying to look at options within reasonable reach.
Of the offerings listed, my personal choice is the Mojotone Hot Classic Alnico 4 humbucker set.  We can geek out on specs that address how both pickups in this set have Alnico 4 or how it's the only set to have 42 AWG Plain Enamel all the way around.  Or it can just be that the voicing hits my ears more favorably.
DiMarzio Website | Facebook | Twitter | YouTube | Instagram
Mojotone Website | Facebook | Twitter | YouTube | Instagram
Seymour Duncan Website | Facebook | Twitter | YouTube | Instagram