Charvel Marco Sfogli Signature Pro-Mod So-Cal
Italian guitarist Marco Sfogli lights up the prog rock/metal landscape. Within about 20 years, Marco is on over 30 (thirty!) albums as well as 3 solo albums. With an admitted Dream Theater influence, he is also plays guitar on DT vocalist James LaBrie's solo albums.
With chops and a pedigree like that, Marco can have just about any gear he would like. His weapon of choice these days is Charvel. Fill your ear holes with some samples of these sweet notes:
An Unexpected Surprise
This signature Pro-Mod So-Cal is actually something that was not a planned purchase. Do you know when you see an advertisement for a company having a sale? So you go there, but start to look around the rest of their catalog? And you happen across something that you literally had no idea even existed? Yes! That is exactly what is going on here.
My initial impulse is that it could help fill a need for testing an abundance of pickups in different configurations. You know, by swapping out different pickguards. To my surprise, FMIC is using slightly different pickguards on Charvels (this one, at least) than Fenders. And the need for the truss wheel cutout is also kind of a thing. LOL! So I'll be sourcing some Charvel-specific pickguards at some point.
Yet the accoutrements are apropos, so I'm all-in on this guitar. How so? Glad you asked! HaHa! Let's take a look!

Neck
For my money, the neck shares top billing on this guitar. The caramelized maple neck and board are a joy. Or called it roasted maple, it's all the same to me! HaHa! The "speed" profile is sort of like your standard Strat neck on a diet. Really familiar, yet faster. This might be my 3rd guitar from Charvel/Jackson with the rolled edges. The slightly more comfortable grip of the neck as it comes around to the fingerboard makes it feel like your comfortable, broken-in favorite pair of shoes.
Looking at the technical side of things, Charvel does indicate that caramelized does mean baked, or roasted. We pretty much all know these days that makes it a little more stable. But Charvel doubles down and adds graphite reinforcement. Much like the rolled edges, I'm liking the Charvel/Jackson necks that I have with that extra reinforcement. Have really been seeing minimal need for seasonal adjustment on them.
Adding the Luminlay side dots is like putting the cherry on top of the sundae here. The gigging players that I speak with that use the Luminlay seem to agree that there is no going back for them. Thankfully, the Imperial Meditation Chamber is well-lit, but the extra contrast goes a lot further than one might expect. As an aside, Luminlay is a sister company to Red Bishop, for those that remember the recent article on the Magik Arm.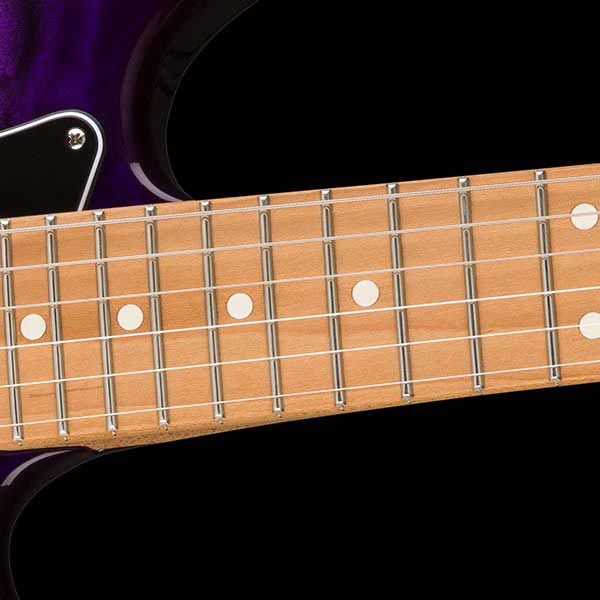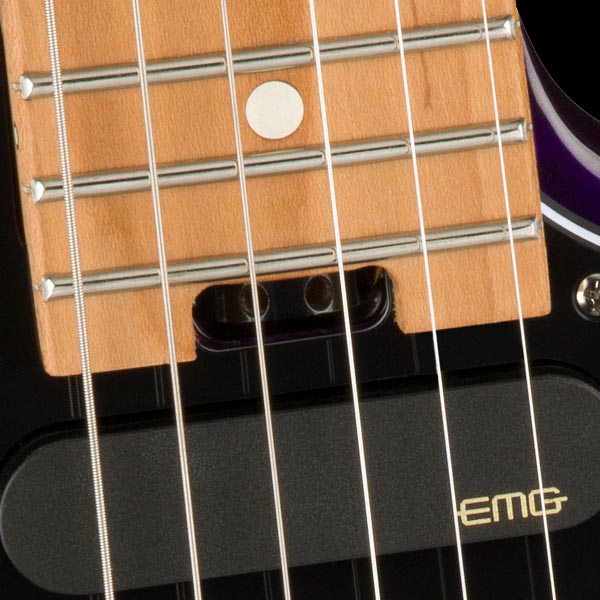 Body
It's the Charvel So-Cal style body. Which means that it's pretty much the basic Fender Strat body that most of us should know.
As for the feel, the Marco Sfogli model has the "shredder's heel" and the back of the lower horn is scalloped (see photo above). It's a really nifty ergonomic fit that you really don't even think about while playing. It's so natural that it doesn't bring attention to itself. If you have a Strat sitting next to it, you can go back and forth and the differences then reveal themselves so much you will want this heel and countour on all your guitars.
The alder body has a quilt maple top. The guys that are in to the looks will be pleased. Admittedly, the Transparent Purple Burst is a classy touch. Especially with the black pickguard and pickups. I think this guitar would looks incredible with gold hardware. But it's looking mighty dapper as-is.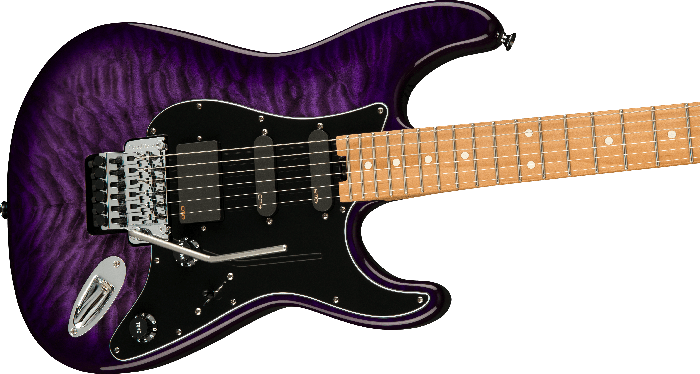 Electronics
You are surely already seeing the undeniable signs of EMG pickups. This is the 89/SA/SA set, which I actually just published an article about not long ago that you can find HERE. In this rig, the Volume also works as the Push/Pull to switch between the dual modes of the bridge position pickup.
For all intents and purposes, I generally sit in the camp that EMGs are generally going to sounds like EMGs, no matter the guitar they are in. Granted, it always helps to have a quality instrument. How can the pickup transmit sustain if the guitar doesn't sustain. LOL! The handy part here is that you can really experiment with the different EMG options with EMG's quick-connect wiring harness. For example, swap with the 89R model for the single coil to be on the neck side of the humbucker. Of if you prefer ceramic over the alnico of the 89/SA/SA, try the 81TW/S/S for more sizzle and grind.
For convenience, the battery is accessible via a compartment on the back of the guitar. So there is no need to remove the pickguard every time a new battery is required. Incidentally, it is a single 9V box. The 18V mod might suited for another situation. HaHa!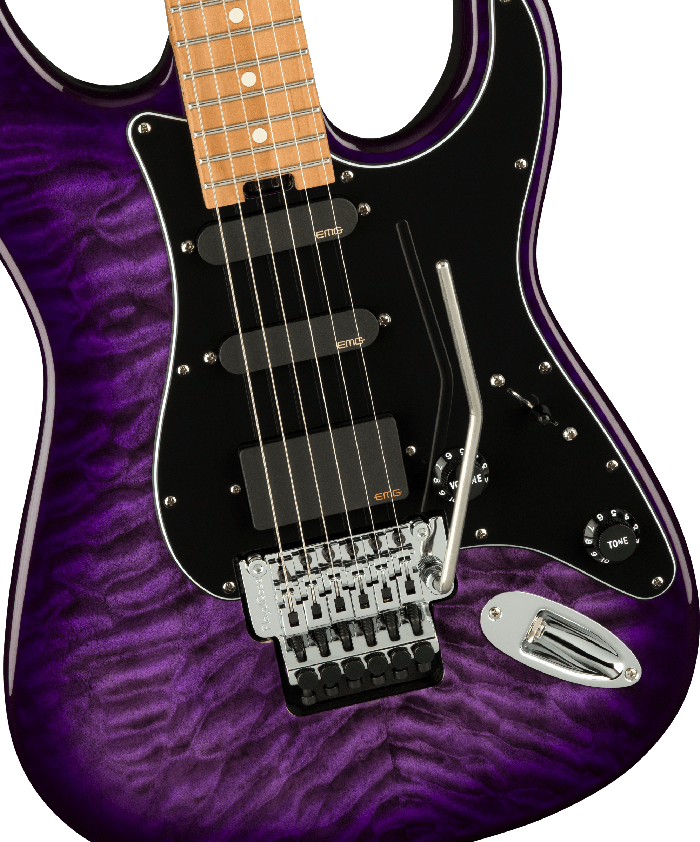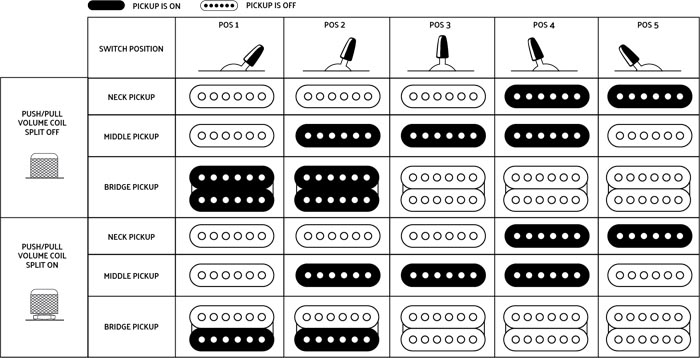 Hardware
The tuners are your regular Charvel-branded tuning pegs. Since a Floyd Rose locking nut is in the mix, there is not much more to add about it than the tuners do what they need to do. No complaints, as all is well.
And, if you are wondering what shares top billing with the neck? Of course, it has to be the legendary Floyd Rose double-locking tremolo system. Nary a guitar enters the Imperial Armory without this hardware. The fine fellas at Floyd Rose are really stepping it up with the 1000 Series these days. Staying in tune better than ever and the tolerance on the trem arms are much improved. This is about the 3rd or 4th 1000 Series in a row that has truly exceeded my expectations with no reason to modify or upgrade any things. And trust me when I say that if it's working, leave it alone! HaHa!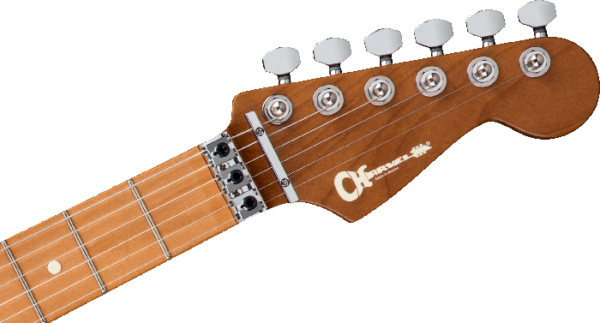 Specs
Body Material – Alder
Body Top – Quilt Maple
Shape – So-Cal
Finish – Gloss
Neck Material – Caramelized Maple
Shape – Speed Neck w/ Rolled Edges
Finish – Satin Urethane
Fingerboard Material – Caramelized Maple
Radius – 12″-16″ Compound
# of Frets – 22
Fret Size – Jumbo
Nut – Floyd Rose Locking
Nut Width – 1.6875″
Inlays – Cream Dot
Side Dots – Luminlay
Truss Rod Nut – Heel-Mount Wheel
Bridge Pickup – EMG 89
Middle Pickup – EMG SA
Neck Pickup – EMG SA
Pickup Color – Black
Controls – Volume (P/P Coil Split), Tone
Configuration – HSS
Bridge – Floyd Rose 1000 Series
Finish – Chrome
Tuning Machines – Charvel-Branded Die-Cast
Pickguard – 3-Ply Black
Knobs – Strat-Style Skirt
Switch Tip – Black
Neck Plate – 4-Bolt Sculpted Heel
Strings – 09-42 Gauge
Demo
Conclusion
Maybe this is an impulse purchase, but it quickly makes itself right at home. It's sleek, fast, comfortable, versatile, and is visually stinking. The features make this an outstanding option for most any genre. Leave the rest to your hands and your amp!
For reference, this Charvel Marco Sfogli Signature Pro-Mod So-Cal guitar evaluation was conducted with a Fractal Axe-Fx II XL+ featuring Celestion Impluse Responses and Fractal MFC-101 MIDI Foot Controller. Real cabs in use are Marshall 1960B, Mojotone British, and Peavey 6505 cabs loaded with Celestion Classic Series Vintage 30s and Classic Series G12M Greenbacks.
Charvel Guitars Website | Facebook | YouTube | Instagram
7 string 8Ω 59 Alnico 2 Alnico 3 Alnico 4 Alnico 5 Alnico 8 Bare Knuckle BKP Brown Sound Celestion Ceramic Custom Shop Dean DiMarzio DMT Dual Resonance EVH Fishman Floyd Rose Fluence Gibson Humbucker Ibanez JB Jimmy Page John Petrucci MJ Mojotone P90 PAF Pariah Pickup Professor Guitarism Satch Satriani Schaller Seymour Duncan Singlecoil Single Width Speaker Steve Vai Tech Tip Tremolo