Mojotone Premium Historic Limited 59 PAF Humbucker
The Premium Historic Limited 59 PAF Humbucker set is aiming squarely at the top tier of my own personal "Best Of…" PAF list. As it should for your list, too.
How about we just admit it. There is a metric ton of marketing malarkey and hyped-up hijinks littering the fields of the "59" and "PAF" realm. So let's take a look at what we're dealing with.
In this corner, you have the guys in their garage anointing themselves as the overlords of the boutique realms. Generally chatroom staples, they hold court above players with more money than sense. Naming products that evoke landmark albums or legendary locations, tone sniffers are quick to cough up $400-600 or more. Yep, I have my share of those on the workbench.
And in this corner, there's always the big name that wants you to think that 'this' is finally "The One". The last 2 or 3 efforts to clone the special sound from their own vintage guitar were just clearing the throat. Now the tenor is ready to sing. LOL! Until next year, when they finally get it right. Again. HaHa! And yes, I have put those to use as well.
In all fairness, there are companies and winders that get it right. When they do get it right, it's a glorious thing. And the Mojotone Premium Historic is without a doubt one of those. It's an inspiring tone that makes you want to keep on playing. There is really no higher compliment that I can think of than that.
Mojotone's marketing on the Premium Historic presents an excellent assertion. Which is that all of these winders know what was in use. And even how it was put to use. And that masterpieces are not put forth from painting by numbers in that way. But as in the same manner that some of the best guitar players can be the players that know it all. But they forget it… and just play. Yes, just play.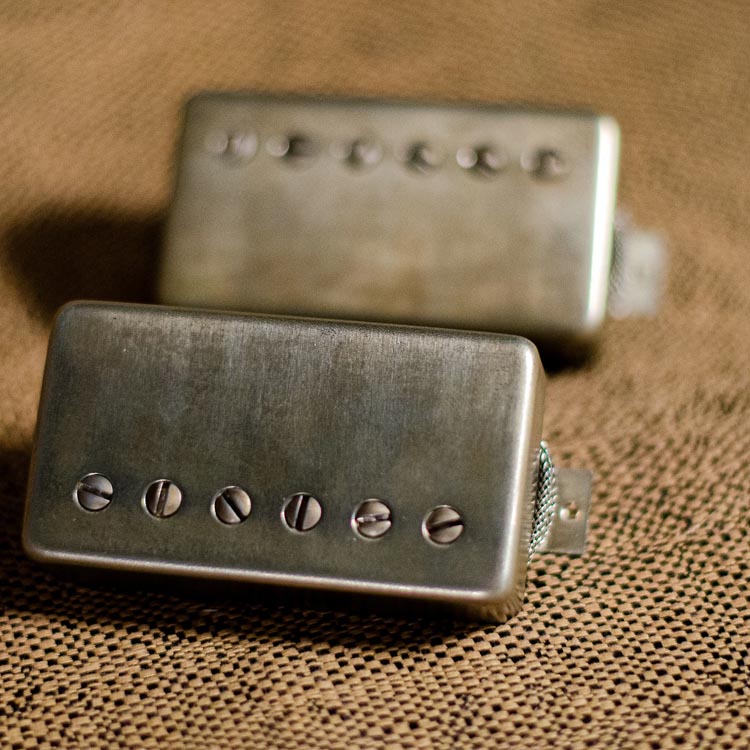 The Premium Historic 59s are presented in a Lifton style packaging. Mojotone even sourced some original 50s-era pink case lining. Sliding back the stylishly etched clear cover opens up the welcome aroma of butyrate bobbins. Yes, they were originally offered with open coils. And you probably know what happened next. LOL! So now they come with raw nickel-silver covers with an exquisite aged detail. And who am I to say if you take the covers off when you get yours. HaHa!
Being vintage-correct means that they come with braided lead wire. That also means that I do not have specific readings for each coil, but they are advertised as being offset. Sorry guys, I cannot bring myself to cracking these open for more details.
A few guitars are on-deck to check out the Premium Historic set. In fact, they are now in a singlecut style guitar from which I expect they will never leave. So how about we start with that.
Singlecuts are notorious for problematic neck position results. This is a criteria that I use to evaluate all humbucker sets. The Premium Historic dominates this opportunity. And does so with a sly grin. Lows as warm and smooth as a Montecristo, yet with the refined control that doesn't get loose or muddy. Well-balanced mids and a high end as sweet as a sunny-day cruise in a classic convertible Caddy.
The bridge position is a marvel. And the character that makes it so really applies to the entire set. It's one thing to voice a classic-style humbucker. And it's something else to season the character of a pickup with the attributes that makes them desirable for decades. The clarity, the responsiveness, the versatility. From intimately complex jazz to standing-room-only arena rock. From light and funky to the harmonically rich Woman Tone. Whatever is inside your fingers that's waiting to get out.
I really dig the middle position. Sure, the bridge and neck can work wonders on a clean amp setting. But the middle position really brings out the best of the transparency of both pickups to work in concert for a superb result.
Here's a demo of the Premium Historic 59 PAF set:
And here they are in a direct comparison to some original PAFs:
Ready for some specs?
Premium Historic PAF Bridge
Series – 7.977 K
Inductance – 4.325 H
Magnet – Roughcast Alnico 2
Wire – 42AWG Plain Enamel
Potting – None
Spacing – 49.2 mm
Premium Historic PAF Neck
Series – 7.139 K
Inductance – 3.559 H
Magnet – Roughcast Alnico 2
Wire – 42AWG Plain Enamel
Potting – None
Spacing – 49.2 mm
You can most likely find several options that meet those numbers on paper. And that means very little. There are more than a fair share of those $400-600+ boutique sets with similar specs that come up sounding as plain (and sometimes flat) and a mass-production option. There is the intangible quality to the voicing that adds the extra dimension.
I could literally go on and on about this set of humbuckers. Lots of PAF style replicas that are out there can box you in. Where as the Premium Historic opens it up for you. This set is good for Blues, Country, Jazz, Funk, Reggae, Classic Rock, Heavy Rock, and more!
The Mojotone Premium Historic Limited 59 PAF Humbucker set is a Reverb exclusive. Click HERE to buy and click HERE to go to Mojotone. They are crafted and replenished in small batches, so don't worry about the quantity shown as currently available. More are always on the way.
For reference, this Mojotone Premium Historic Limited 59 PAF Humbucker set evaluation was conducted with a Fractal Axe-Fx II XL+ featuring Celestion Impluse Responses and Fractal MFC-101 MIDI Foot Controller. Real cabs are Marshall 1960B cabs loaded with Celestion Vintage 30s and G12M Greenbacks.
Mojotone Website | Facebook | Twitter | YouTube | Instagram
7 string 8Ω 59 Alnico 2 Alnico 3 Alnico 4 Alnico 5 Alnico 8 Bare Knuckle BKP Brown Sound Celestion Ceramic Custom Shop Dean DiMarzio DMT Dual Resonance EVH Fishman Floyd Rose Fluence Gibson Humbucker Ibanez JB Jimmy Page John Petrucci MJ Mojotone P90 PAF Pariah Pickup Professor Guitarism Satch Satriani Schaller Seymour Duncan Singlecoil Single Width Speaker Steve Vai Tech Tip Tremolo