Pariah Pickups Dirty Dog Humbucker Set
The Dirty Dog set is an offering from Detroit-based Pariah Pickups. It dishes up a heaping helping of saucy Texas-inspired sound that's got the legs to deliver a rich and vintage humbucker tone.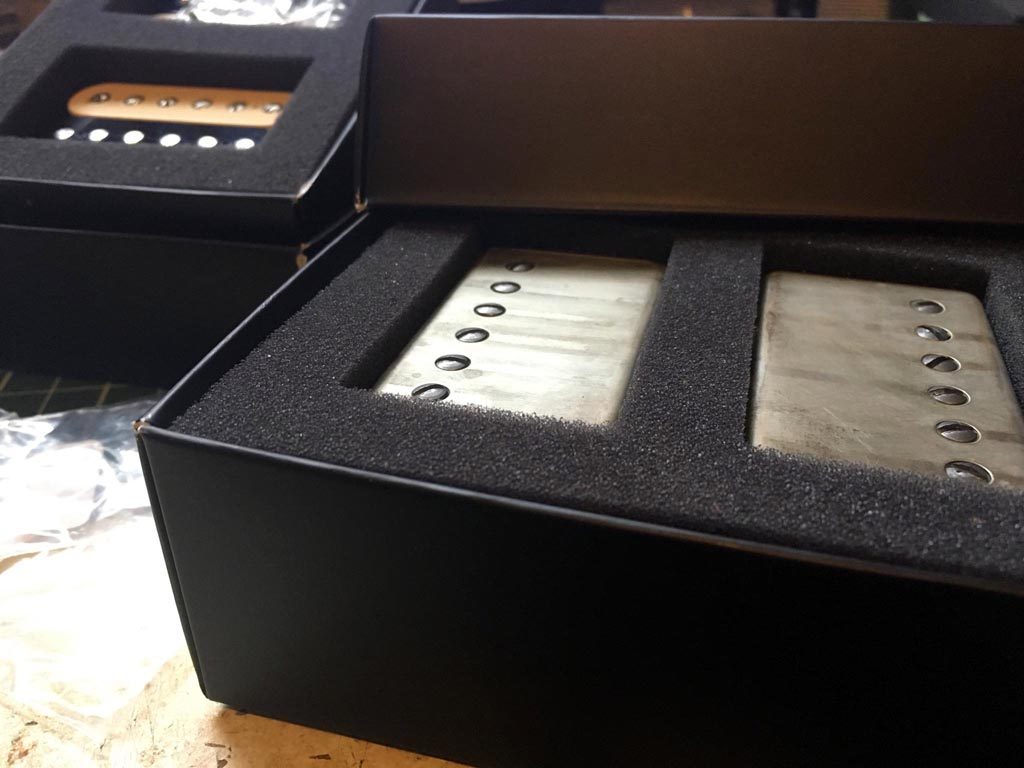 We all pretty much know these days that the PAFs out of Kalamazoo were all over the place. A pair made right in a row off the same machine by the same person could easily sound like night and day as they could sound the same. Nothing was calibrated for any particular position and the only QC was pretty much if it worked or not. There was little-to-no climate control to speak of in those shops. And the materials used was essentially whatever was on hand.
So it's a bit of a miracle when the circumstances from that old factory align to the degree to where the end result has a distinguished desirability among guitar players. And thankfully, there were enough of those little miracles to give the world enough combinations to work in various settings.
If you could only flag down the voice of a special PAF that's as sweet as honey and as fiery as a jalapeño, the Dirty Dog would have you hot, blue and righteous in your cheap sunglasses waitin' on the bus to leave Chicago.
I found a set of Dirty Dog humbuckers several months ago and have been putting them through many scenarios. They are installed in a double-hum guitar, wired to take advantage of the 4-con lead wire. They are also available with the vintage braid lead wire, as well as the regular Pariah options. Those include long/short legs, covers, pole spacing, and relic/aging. I don't see a potting option on the Pariah site, but I'm guessing you include such a request at the time of order.
The Dirty Dog is a slightly el loco take on that old classic tone that is versatile enough for a sharped dressed man or for beer drinkers and hell raisers. In the bridge position, the mids have a sizzling bite with strong lows. The high end as sweet as Hill Country peach cobbler. Pariah is known for an open, transparent character with abundant harmonic content. And that's what you're getting here as well.
In the neck position, the Dirty Dog is as rich as a piece of pecan pie and as bold as a bowl of chili. If you like heavy blues vibes, you'll doubleback to the Dirty Dog and won't touch anything else with a ten foot pole.
Lay your peepers on this demo video of the Dirty Dog set from Pariah regular Visual Guy:
Let's look at some specs:
Dirty Dog Bridge
Series – 8.132 K
Inductance – 4.609 H
Screw – 3.776 K
Slug – 4.346 K
Parallel – 2.02 K
Magnet – Alnico 2
Dirty Dog Neck
Series – 7.209 K
Inductance – 3.62 H
Screw – 3.582 K
Slug – 3.623 K
Parallel – 1.7998 K
Magnet – Alnico 2
You know what else the Dirty Dog is good for? If you want to let there be rock and flick the switch on some high voltage to blow up your video and perform some dirty deeds on the highway to hell. LOL! Just sayin'. HaHa!
For reference, the Pariah Dirty Dog model humbucker pickup set evaluation was conducted with a Fractal Axe-Fx II XL+ featuring Celestion Impluse Responses and Fractal MFC-101 MIDI Foot Controller. Real cabs used were Marshall 1960B cabs loaded with Celestion Vintage 30s and G12M Greenbacks.