Seymour Duncan Custom Shop Warren DeMartini RTM
Disclaimer right up front:  the RTM is NOT the sound of 1980s RATT.
So, you ask, isn't the JB what DeMartini was using?  Yep, you are right.  And Robbin Crosby is known for the JB and the Holdsworth.
And speaking of the JB, a nagging suggestion persists that the RTM is a JB with an Alnico 2 magnet.  With DeMartini using the JB for so long, you can bet that DNA runs deep within the windings of the RTM.  However, just because it's about 16k does not automatically mean it this or that existing model with a relatively lazy change.  Yes, there are plenty of those in the Duncan catalog, but this is not one of them.
Warren has said the he took his original "crossed swords" Charvel in to the company one afternoon and they simply ran through some options.  The facts are that by the time that is happening it's 25 years since "Round And Round".  The preference of amps do change and DeMartini's hearing is affected by decades of ear-shattering decibels.  As a result, the RTM is what Warren is wanting with those filters in place.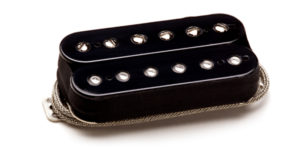 The RTM has the typical selection of adornments and options.  Mine are trem-spaceing and I prefer 4-con lead wire.  The baseplate is signed by Seymour and Warren DeMartini on all the RTMs shipped.  How cool is that?!
Installation
There was a strong encouragement to install the RTM in a bright guitar, which is a good idea.  With that in mind, I put the RTM in a few different conditions, as far as guitars.  Most notably, a fairly high end ESP with a maple body, maple neck and ebony board.  To the other extreme, a lower end import guitar from a different brand with a poplar body, maple neck and rosewood board.  I've also tried one in an American Standard Strat with an alder body, maple neck and maple board.  All have Floyd Rose trems, 500k Bourns pots and Switchcraft jacks.
That ESP is the first one in use for that first RTM.  It was a direct swap for a JB, so the similarities and differences were more prevalent.  To start with, the RTM is richer sounding, and I'm not talking about the price tag *rim shot*.  From the first big open chord, you can hear definition within the smooth roar.  If you are using a JB, you might be a little more familiar with the precise lows and focused highs of the Alnico 5 magnet.  What you get with the RTM is a low end that's firm with a little bit of sag and a high end that has a touch of sweetness to it's bite.
Demo
Check out the RTM in action in this video:
Riffing is fun, thanks to an authoritative presence.  Lead work and solos become a breeze, courtesy of a well-tuned voicing.  The RTM is loud, so you might find you still need to roll back on a clean amp setting.  And yes, my experience does confirm that it does like a brighter guitar a little better.
Specs
How about some specs:
Series: 17.6 k
Inductance: 8.83 H
Resonant Peak:  4.40 kHZ (advertised)
Magnet:  Alnico 2
Conclusion
In all fairness, sure, the JB is the sound of RATT that we know from the songs that we know RATT from.  However, based on some of the issues that some people have with the current production model JB (discussed here), the RTM is an excellent solution for consideration.
For reference, this RTM evaluation was conducted with my old trusty amp, as well a Fractal Axe-Fx II XL+.  Cabs are a Peavey 6505 cab with 12″ Sheffields, and a Marshall 1960B cab with 12″ Celestion G12-65s.
Seymour Duncan Website | Facebook | Twitter | YouTube | Instagram
Warren DeMartini Facebook