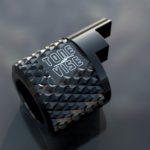 Players have wanted a pitch shifter for double locking tremolo systems since double locking tremolos were first available. Who else remembers the stories of the whale tail and the fine tuners and how Eddie® wanted something that could detune his low E string?
Do you know what else guitar players want? Something that's hassle-free! LOL! An option that's rock solid. No extra tools or wrenches to lose. Installs easily and with no modifications. Simple to use. And precision made from quality materials.
The Pitch Shifter from Tone Vise meets that criteria. Yes, the same Tone Vise that makes the Keyless Lock Nuts. As near as I can tell, there are no other options quite like the Pitch Shifter. The days of being left flat (ha! a pun!) from your detuner are a thing of the past.
Before you think this is all about the Floyd Rose, stick around. Tone Vise makes a Pitch Shifter option for the original style Ibanez Edge tremolo that also works on the Gotoh 1996.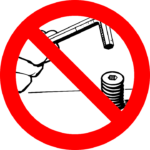 How does it work? Remove the existing string lock screw – don't worry, your new Pitch Shifter comes with it's own. Put that new screw with the Pitch Shifter in it's place. Space the Pitch Shifter so that it's just short of making contact with the back end of your whale tail. Tune up and lock down the nut. Move the Pitch Shifter to the 'low' position and tune to the drop setting. You're done! No lame set screw to set up and continually tweak. Clear as mud? Fret not (ha! another pun!), there's an install and setup video.
Does it work in a recess trem cavity? Heck yeah it does! No more hacking up your expensive instrument.
Does it work on a 7-string? Oh yeah. I was super curious about this possibility. And it works like a charm. After the quick install and even quicker setup, it blew me away with the pin point accuracy of going from low B to A. I was ready to mosh and trash with the youngsters. Or whatever it's called these days! HaHa!
Do you need to stabilize the trem? Yep. There's just no way around those physics. Choose the method that works best for you and your playing style. The Black Box. The Tremel-No. A plain vanilla Tremolo Stopper. Or whatever your prefer.
How about seeing it in action:
Pretty much the same for the Floyd Rose install.
The ones I'm checking out are hand-finished and made here in the USA, direct from Tone Vise HQ. The business end of the Pitch Shifter is made from heat-treated and stress-relieved 6061 T651 aluminum frequently found in aircraft construction. It's finished off with a Type II military spec anodizing to help resist wear.
Stop by the Tone Vise REVERB STORE to get yours direct from the manufacturer. And hit up the links below to like, follow and subscribe to Tone Vise across social media to ask questions and stay updated.