Seymour Duncan Pearly Gates Humbucker Set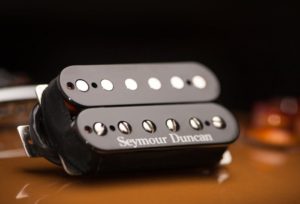 The Pearly Gates is a pickup that gets a revisit.  I tried the bridge model many years ago in a Strat as an attempt to try something a little different from a JB.  After recently tracking down a neck model, I can look at the Pearly Gates as a full set.  Track down?  Yep.  Where possible, I do still prefer to find the older models with the ink-stamped labels.  There's just more character to them, in my opinion.  Definitely exercise the bit of patience needed to do the same, where applicable.
Looking at the commonly known origins of the Pearly Gates, Texas blues rocker and ZZ Top frontman Billy Gibbons was wanting something comparable to the P.A.F. humbuckers in his 1959 Les Paul.  We pretty much know that the specs for the early P.A.F. humbuckers are all over the place.  Billy's bridge humbucker is just a little hotter than what people consider typical for that era.  Still, far from a scorcher by current standards.
Now, the Reverend Willy G likes his gear.  So much that he is known to use a bit of the TV Jones brand pickups as well as offerings from Mojotone.  Which is to say that it's a little hard to consider the Pearly Gates a "signature" product.  If the Duncan company did call it that, imagine the royalties Billy would collect for decades of sales!  That'd buy a lot of tamales!
When the Pearly Gates was developed almost 40 years ago, it was made with plain enamel wire and Alnico 2 magnets.  Taking a peek into mine, the magnets are polished.  Interesting enough, the suggestion has been made that the Pearly Gates bridge is particularly similar to the 59 Model bridge that came out just a year prior.  There are also those that would imagine that the 78 Model is simply an overwound Pearly Gates bridge.
Not to be taken as simply a Texas boogie style of humbucker, the Pearly Gates is also used by players of Southern Rock, Thrash, Metal, Punk, and is even a choice of Firehouse's Bill Leverty.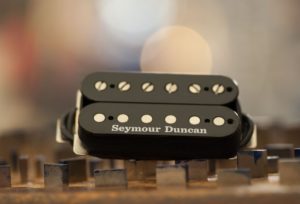 Installing the Pearly Gates set into one of my 2-hum test guitars, each pickup is wired to independent series/parallel controls.  Remembering that it has been many years since using a Pearly Gates, there was only the common feedback offered from others to consider before firing up the amp.  The general consensus happens to be that the bridge is bright and the neck is dark.
Color my surprise when I discovered that the bridge has a little warmth and the neck has some definition.  At least, that would be relative to what I was expecting going in.  LOL!
The Pearly Gates bridge has the advertised sweetness to it, more so in the high end.  The mids are relaxed and have a touch of a snarl.  Lows are full but not loose.  While obviously at home on a dirty amp tone, it handles cleans very well.  Series wiring will give a bit of a spank, where parallel gets into a more chimey tone.  Putting the set together in parallel reveals an excellent option for a clean tone.
I'll admit that I have concern about the neck, as some take it as thick.  Imagine my surprise when I find it much more usable than I'm led to believe.  Sure it had some girth in the low end, but I'm not finding it mushy or too loose.  It works out nicely for a heavy blues lead tone in all ranges of the fretboard.  The Pearly Gates neck has more going on for clean tones in series and parallel mode.  In fairness to the opinions I received, I can see where the neck pickup might be a bit much for the notoriously heavy character associated with the neck position in a Les Paul.  Still it doesn't remove the Seth Lover, Angus Young, and the Greenie as my preferred P.A.F. style neck humbuckers from the Duncan catalog.
Have a look at this official demo video of the Pearly Gates in a hard rock setting:
How about some specs:
Pearly Gates SHPG-1 Bridge
Series – 8.032 K
Inductance – 4.844 H
Resonant Peak – 6.5 KHz (advertised)
North – 4.075 K
South – 3.948 K
Parallel – 1.1991 k
Magnet – Alnico 2
Pearly Gates SHPG-1 Neck
Series – 7.362 K
Inductance – 4.038 H
Resonant Peak – 7.5 KHz (advertised)
North – 3.702 K
South – 3.655 K
Parallel – 1.8396 k
Magnet – Alnico 2
As a set, both pickups have a quality to them that actually got me to double check if they were actually potted (note: they are).  Why?  First off, the Pearly Gates are quite touch sensitive and very responsive to subtleties.  And then there is how they have that nice way of when the decaying note crossfades in to a bit of the pleasant feedback that you actually want to hear.
The Duncan company does have several offerings in the P.A.F. ballpark.  Imagine the Pearly Gates as a ballsier Seth Lover or Antiquity set.  Outside of the P.A.F. menu, it might be considered as a cousin to the Alnico II Pro.
For reference, this Pearly Gates pickup set evaluation was conducted with a Fractal Axe-Fx II XL+ featuring Celestion Impluse Responses and Fractal MFC-101 MIDI Foot Controller.  Real cabs used were Marshall 1960B cabs loaded with Celestion G12-65s, Vintage 30s and G12M Greenbacks.
Seymour Duncan Website | Facebook | Twitter | YouTube | Instagram