Schecter Synyster Gates Signature Pickup Set
As the lead shredder for Avenged Sevenfold, Synyster Gates has been using and abusing Schecter guitars for well over a decade.  For the sake of full disclosure, it is when I watch footage of Synyster at guitar clinics and talking about his music  that I realize how great of a player he is and the depth of his passion for guitar: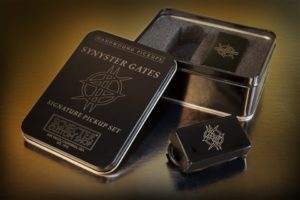 Schecter Guitar Research has been making pickups as far back as the late 1970s – and I'd encourage having a peek at their menu.  So wouldn't you know that Schecter was more than well-equipped to make Synyster some pickups that he says are "the greatest pickups I had ever heard or felt in my life".
This is where it gets fun.  Couldn't it be expected that a new pickup set for Synyster Gates would just be a warmed-over homage to something previously used?  Thankfully, that's not the case.  Old conventions were kicked to the curb and a refreshing approach is taken to something special for a valued artist.
The Synyster Gates Signature set comes in a groovy commemorative tin.  The first thing I'm thinking is that tin would be great to store strings or picks or random tools for the gig.  Or put your old pickups in there to be buried in the back yard, because you won't need them once you start using these.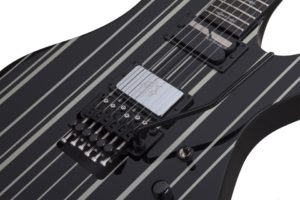 For this evaluation, the pickups were installed in a pretty neutral-sounding double-hum super strat with a German double locking trem.  Each pickup is wired to it's own Bourns 500k push/pull pot for series/parallel operation, then on to a Switchcraft 3-way toggle and a Switchcraft output jack.  The guitar is tuned to E standard with a standard 10-46 set.
Upon liftoff, the Synyster Gates set roars to life with a surplus of hard pipe-hittin' power.  Not for the weak-willed, you best be prepared to commit when you take on this bad boy.  It's not messing around.  The lows are deep, yet controlled.  There's no mud invading this tone.  Low-mids have a bit of a grunt going on while the higher-mids snarl when provoked.  Highs are precise and focused.  This is pretty high-powered set, so clean tones may or may not benefit from some amp tweaks, depending on your rig.
I'm hitting 80s riff-rock with copious harmonic squeals, arena-filling big chords, and even more nuanced classic rock.  Then it's on to cleaner amp tones to try out single lines, arpeggiated chords and strait-on clean strumming.
Here are a few sound clips, as performed by Synyster Gates:
Bridge Lead:

Neck Lead:

Bridge Clean:

Neck Clean:

Wanna see some specs?
Synyster Gates Signature Bridge
Series – 18.02 K
Inductance – 8.675 H
North – 9.032 K
South – 9.023 K
Parallel – 4.507 k
Magnet – Ceramic
Synyster Gates Signature Neck
Series – 12.165 K
Inductance – 6.047 H
North – 6.118 K
South – 6.051 K
Parallel – 3.041 k
Magnet – Ceramic
This set is great for Rock, Hard Rock, Metal, Heavy Metal, Alt-Metal, Prog-Metal, Djent, Metalcore, and anyone wanting a multifaceted character with an aggressive voice.  The pickups have short-mounting legs and 4-con lead wire for installation versatility, as well a covers in different options to match your own guitar's hardware to your liking.
Go check out Schecter's site to look at their other pickup options.  Based on the Synyster Gates Signature set, I'm looking forward to hearing more myself.
Schecter Guitar Research Website | Facebook | Twitter | YouTube | Instagram