Bare Knuckle Holydiver Set
There are some things that come to mind when some people think about the Holydiver humbucker set. In the real world, those things can range from flat-out wrong to pretty spot-on. How about we take a peek at what's what?
First off, this is NOT the tone of Dio's "Holy Diver". The song or the album. How do I know? I asked Vivian Campbell what he used on that recording. LOL! No, really. I did. That's a vastly different model from a totally different brand and that's not what we are talking about here today. If you don't know, it's easy to Google where Viv talks about it. So let's move on….
Next up, it's not a clone or a replacement for a substitute (or anything like that) for a well-known humbucker out of California. You can look at numbers on a page and think it is. But you can read many of the articles across this site to see where specs don't always add up to a hill of beans. HaHa! The wire selection and what the winder does with that wire is where it's at.
So, what is the Holydiver humbucker set? It's clearly a homage to the high-octane high-output high-adrenaline vibe of '80s rock, hard rock, and metal guitar tones.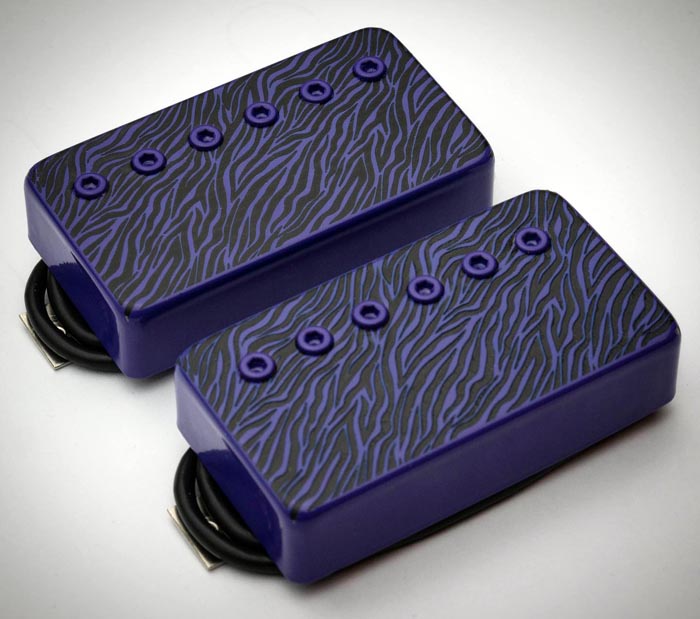 Installation
The Holydiver set gets a direct mount in a Made-In-Japan Charvel Pro-Mod San Dimas. Alder body. Maple neck with 25-1/2″ scale maple board. Official Floyd Rose double-locking tremolo system. The harness is a Bourns 500k pot, Switchcraft 12120X 3-way switch, and Switchcraft 1/4″ output jack. The 09-42 gauge strings have a E-standard tuning.
As a reminder, I generally prefer short mounting legs as much as possible. Bare Knuckle currently factors in the probability that customers ordering short legs might direct-mount the pickup. To account for that, short legs now generally default to shorter screws. If you want longer screws with shorter legs, or shorter screws with longer legs, just let them know.
All I'm saying here is that the comments in this article are talking about my experience with a set that has the shorter screws. If you are thinking about playing around with screw length or pole style, you can buy them direct from BKP at this link. It's cool that they offer that, so consider taking advantage of it.
Evaluation
If you want to fill the room with hard pipe-hittin' heavy-80s riffin' vibes, the Holydiver is one to consider. And by that, I mean that it's a big-sounding pickup. Have a thin or overly-bright guitar? In a single guitar band and need to broaden the footprint? Check out the Holydiver. To be clear, I'm not saying it'd bloated or overly-thick or anything like that. It's loud and proud and it dominates.
This bad boy is right at home of a dirty amp setting. The low-mids really blows your hair back as it roars to life, letting it be known that there's a new sheriff in town. The firmly juicy low end will straddle pedal-note riffage and command the big open chords. And the sweeter high end gives an attitude to your solos and leads that will have the ladies throwing their knickers up on the stage.
The neck position is another reminder that the lads at BKP understand the concept of voicing a complete pair. Big ripe single notes that join together a deep presence that retains clarity. This Holydiver neck is going to a switch for series/parallel operation. This pickup set for parallel on a clean amp setting is genuinely luscious.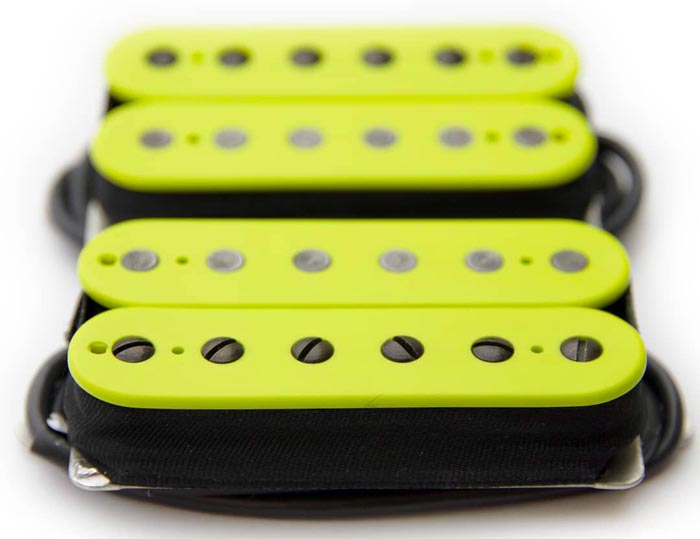 Specs
Holydiver Bridge
Series – 15.901 K
Inductance – 7.371 K
Split – 8.15 K
Split – 7.781 K
Parallel – 3.977 K
Magnet – Alnico 5
Holydiver Neck
Series – 8.146 K
Inductance – 3.743 K
Split – 4.109 K
Split – 4.028 K
Parallel – 2.033 K
Magnet – Alnico 5
Demo
A demonstration of the Holydiver humbuckers by Chris Brooks. Check out Chris Brooks instructional YouTube channel here
You're in for a treat today. Or… maybe you're not! LOL! Here is a comparison demo by yours truly. This is going back and forth between the Holydiver and the Rebel Yell. All guitars are me. Clean guitars are me, but a different guitar and pickup. This is for the dirty tones only.
Conclusion
The Holydiver is going to be good for blues rock, pop, garage, hard rock, shred, fusion, prog metal, tech metal, thrash, and more. It is available in 6, 7, and 8-string configurations. You can choose from over a dozen bobbin colors, and an incredible array of selection of covers, radiators, and TVs. You can customize with screw or bolt poles in about a half-dozen finishes. And of course, you have a selection of mounting leg length and type of lead wire.
For reference, this Bare Knuckle Pickups Holydiver humbucker set evaluation was conducted with a Fractal Axe-Fx II XL+ featuring Celestion Impluse Responses and Fractal MFC-101 MIDI Foot Controller. Real cabs in use are Marshall 1960B, Mojotone British, and Peavey 6505 cabs loaded with Celestion Classic Series Vintage 30s and Classic Series G12M Greenbacks.
Bare Knuckle Pickups Website | Facebook | Twitter | YouTube | Instagram
7 string 8Ω 59 Alnico 2 Alnico 3 Alnico 4 Alnico 5 Alnico 8 Bare Knuckle BKP Brown Sound Celestion Ceramic Custom Shop Dean DiMarzio DMT Dual Resonance EVH Fishman Floyd Rose Fluence Gibson Humbucker Ibanez JB Jimmy Page John Petrucci MJ Mojotone P90 PAF Pariah Pickup Professor Guitarism Satch Satriani Schaller Seymour Duncan Singlecoil Single Width Speaker Steve Vai Tech Tip Tremolo