Mojotone British Style 4×12 Straight Speaker Cabinet
Speaker cabs. It's what makes the sound happen. The construction of the cabinet can shape your tone as much as any other element. And the look of your cabinet can set you apart when on the stage! C'mon. Admit it. Nothing looks cooler than stacks in your backline.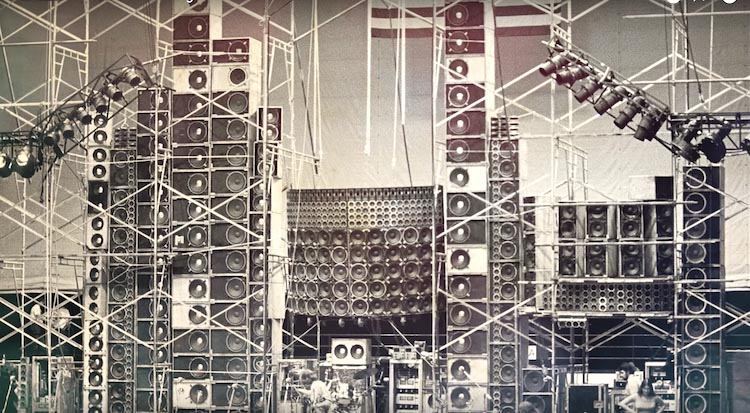 Even players that use software or modeling amps still try to emulate the influence a real physical cabinet has on the end result. Side note: the best way I've found to do that is with the official Celestion Impulse Response collection. Just sayin'. And if you play live, thinking that going straight to the board just is not the same. Yes, I said it. Call the cops! LOL! I've seen a 2-band lineup. Same stage, same PA, same board. One band's guitarists had real cabinets in the backline. The other took a modeler direct to the board. You can hear it and you can feel it in how a cabinet will fill up the space in the room.
Speaking of filling up the space, that's what I'm doing by adding another cabinet! HaHa! You can always see at the bottom of each article what amp and cabinet and speaker selection are in use for the respective gear evaluation. Most of the time, it's a stack of 2 Marshall 4×12 straight cabinets. Loaded with Celestion speakers, of course. Back in the day, it's a Peavey 6505 (i.e., re-branded 5150!) slant cab. The lone slant cab sat in the corner by itself for way too long. Talks with Mojotone about a matching straight cabinet had gone on for a while, just needing me to make the call. So I did! LOL!
In hopes to match the old 6505 cab, I was expecting to have a custom build. Imagine the good fortune when the dimensions are same as a regular classic Marshall style cab. And that is exactly what Mojotone offers with their "British Style" cabinet selection, in both slant and straight.
Mojotone hand makes their cabs in their North Carolina facility, right here in the US of A. They use thick Baltic birch for the shell, baffle, and the back panel of this cab. Other selections are available for smaller, Fender combo style cabs. The corners are connected with stout 1/4″ finger joints. My main man Andrew was kind enough to throw out some "in-process" photos to share.
Since this cabinet is to match up with that old 6505, there is an issue. It would seem the casters on the 6505 were a "Friday afternoon" job. LOL! The 6505 casters on one side are closer to the edge than the other side. And the casters in the front are a different distance to the front edge than the rear casters are to the back. Basically, the 6505 wheels just are not evenly centered. At this point, I'm totally ready to have the offset 6505 cab just be off-center when on top of the new Mojotone cabinet. Mojotone says they can tackle that issue with no problem so that I have a stack that lines up like it's meant to go together! How awesome is that?!?
Mojotone has over 75 different tolex options. There is no denying that it's tempting to go with something fun. Say maybe one of the snakeskin selections or a fun color like red or purple. The same applies to the types of grill cloth that clock in with over 25 and the multiple colors of baffle piping in either large or medium diameters. To best match the 6505, Mojotone suggests the "Mojotone 5150 Black" tolex and the "British Style Black" grill cloth with medium black piping. Let me tell you, the new Mojo cabinet and the old 6505 look like they belong together!
Have a look at the specs for a "stock" cab, without any customizations:
At that end of that video, you can also see some amp head cabinets. Check out an article by my pal over at TMRZoo, where he has an old Fender M-80 Pro head that gets a new cab from Mojotone. Good stuff!
For my 6505 clone, I also want the recessed metal handles, casters for the bottom, and caster cups on the top to receive the slant cab securely. I am also a sucker for the stereo/mono jack plate that also operates at different ohms. Might not be for the purists, but I dig the options it can deliver.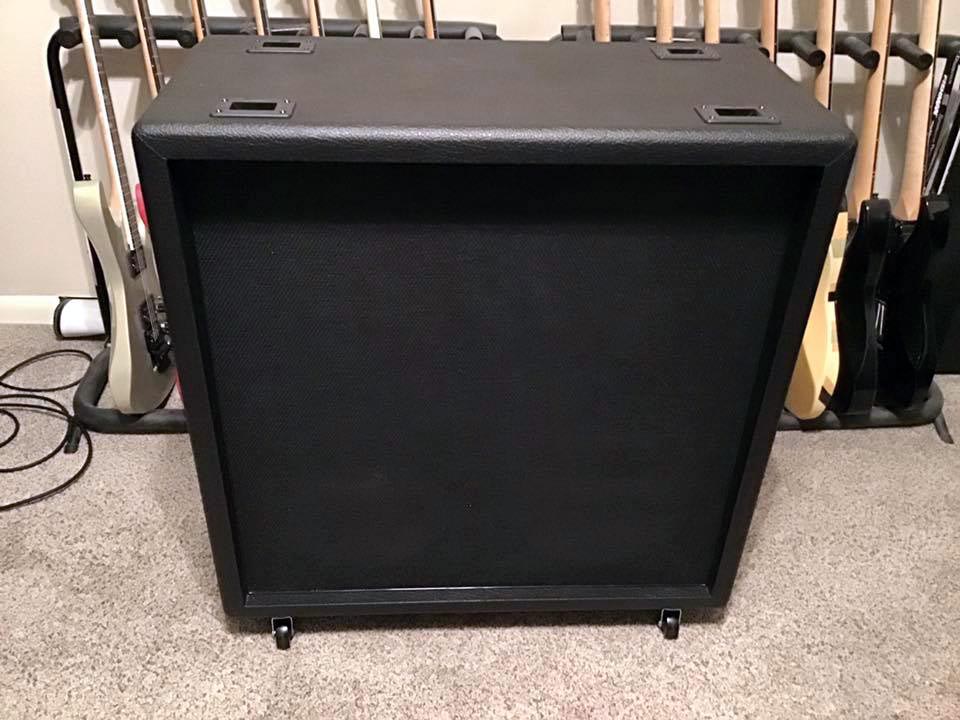 All in all, it arrives within about 5 weeks. But this is in February and March of 2020. Definitely contact Mojotone directly for current shipping forecasts. But when the world is "normal", about a month turnaround on a custom cabinet is impressive. Most impressive.
Take another peek at the Mojotone woodshop in action, doing what they do best:
This puts a total of 4 (four!) 4×12 cabs in to play. Running at once, you need to make the right speaker selection. For me, that is always Celestion and some Vintage 30 16Ω 12″ speakers. Celestion is the touchstone for speakers with industry standards that include the legendary G12M Greenback, the workhorse G12T-75, the newer A-Type and V-Type, and the venerable V30. If you are using amp model or software and are looking for a live in-the-room experience with a real cab, you are in luck. I use the Celestion IRs to audition speakers. In the Axe-Fx, I can even run 2 cabs at once with different IRs in each for a little A/B or blending action.
Why is it again you need this many cabs? Depending on the flexibility of your amp(s) or power amp(s), you can be up to all kinds of no good. LOL! Run to this or to that in as many ways as your cables and connection will allow. Put them together right in front of you. Or spread them out across the room, which is especially fun with a stereo setup. And also back to the #1 reason to have a more cabs: it looks cool! HaHa!
Give Mojotone a look for when you want to add to your backline, pick up a small cab for practice, and even for your very first cab. They have selections to fit most any style of cab and in most any configuration. You can use your own speakers or you can order speakers from them to have a finished ready-to-go cabinet show up at your door.
Mojotone Website | Facebook | Twitter | YouTube | Instagram
Celestion Website | Facebook | Twitter | YouTube | Instagram
7 string 8Ω 16Ω 59 Alnico 2 Alnico 3 Alnico 4 Alnico 5 Alnico 8 Bare Knuckle BKP Brown Sound Celestion Ceramic Custom Shop Dean DiMarzio DMT Dual Resonance EVH Fishman Floyd Rose Fluence Gibson Humbucker Ibanez JB Jimmy Page MJ Mojotone Nut PAF Pariah Pickup Professor Guitarism Satch Satriani Schaller Seymour Duncan Singlecoil Single Width Speaker Steve Vai Tech Tip Tremolo