Fishman Fluence Tosin Abasi Pickup Set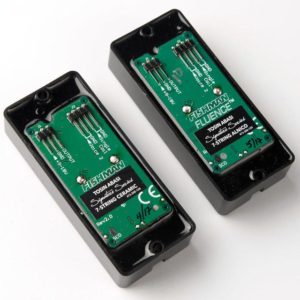 Tosin Abasi sure knows his way around gear.  Ibanez guitars, Rick Toone guitars, Strandberg guitars, among others.  Bare Knuckle Pickups, EMG, DiMarzio, Seymour Duncan.  Morgan amps, Fractal Axe-Fx.  This is where you are thinking that someone going through that much gear has one's ear tuned in (ha! a pun!) to an ideal tone.  Let's take a look!
Tosin's Fluence pickup set rolled out at 2017 NAMM.  You can refresh yourself with my thoughts on Tosin's 2014 set from DiMarzio.  And then he was with Duncan in 2015, where they straddled him with the passive Pegasus Sentient set and an active Blackout set.  During development of his custom set, tears were shed in Santa Barbara (no, for real) when Tosin heard Fishman's Fluence technology in 2016 and knew where he wanted to go.
If you've not checked out the Fishman Fluence, here is the short version.  Instead of the classic coils of copper wire, they wrap ultra thin PCBs into a coil.  They have the flexibility to essentially "program" each coil to the desired specs.  Imagine sitting there, in real time, working with an artist to fine tune the character of the pickup.  More of this?  Less of that?  Boom!  It's done and can be heard immediately.  Once dialed in, the settings for that pickup are what is applied to the production line and what you buy for your own guitar.
Additionally, multiple "voices" can be assigned to each pickup.  The Tosin Abasi set, for example has 3 voices.  2 unique humbucker tones and Voice 3, which is a super clear single coil tone.  Throw in a super switch (not included), as you can achieve Tosin's own preferred wiring option.
For this run around the block, I'm using the same 2-hum super strat used for the Fluence Keith Merrow set.  The Tosin Abasi set has a slightly different wiring bundle than the other five Fluence models I've tried.  Thankfully, the pots, output jack, and power connections are not affected.  So it wasn't like a complete harness replacement.  Not really an issue unless you are a serial pickup swapper.  HaHa!
The bottom line on the Tosin Abasi set is that it's all about the clean tones.  Let's get right to Tosin's own demo so you can see/hear what I'm talking about (playing starts at about 3:24):
If you go watch that on YouTube, Fishman Brand Manager Ken Susi gives you a link to download samples of all Fluence models to load into your DAW and listen to and compare for yourself.  Pretty spiffy!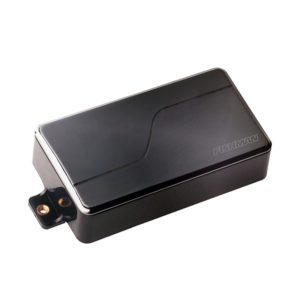 See what I mean about the clean tones on those pickups?  I broke my Thesaurus trying to come up with all the words needed to describe it!  LOL!  There is a pretty deep dive into all the options available for styles ranging from jazz to progressive metal.  What's cool is that the cleaner Voice 3 is more evenly mated with the output of the other voices.
Watching that previous video through to about the 5:20 mark takes you in to the grittier and dirtier tones.  This is where I was a little bit caught off guard.  There is a bit of a thump in the low end.  You might watch the video and think that it's him on that 8-string.  Watch closely.  And then take my word for it as well.  The bottom end can move just a wee bit of air, if I say so myself.
Seems to me that's what compliments Tosin's playing style.  Especially when playing clean and needing a bit of girth to maintain the balance.  A neat happenstance is that I found the Tosin Abasi set to be pretty adept at handling some late 70s "brown" tones.
This is where I'm expecting to be asked to compare.  I have tried the Duncan Pegasus Sentient set, but since they are not Tosin's signature set, I'm not going there except to say that I think they must have thrown those at Tosin because it's what they were pushing as the flavor of that week.  When it comes to the DiMarzio and the Fluence. I'm gonna dodge that bullet and let you hear Tosin play them both at a 2017 clinic.
What do you think?  Do you hear what works for your goals?  It's definitely versatile and a departure from the other Fluence models currently offered.  Let's say you're looking for something that can be as clean, or cleaner, than a strat.  But you also want pickups capable of throwing down the brutalz.
The Tosin Abasi set comes in black plastic, black nickel, and nickel for 6 and 7-string options.  The 8-string set comes as a soapbar only and in black plastic.  I think that black nickel looks pretty groovy, if I say so myself.
For reference, this Fishman Fluence Signature Series Tosin Abasi Pickup Set evaluation was conducted with a Fractal Axe-Fx II XL+ featuring Celestion Impluse Responses and Fractal MFC-101 MIDI Foot Controller.  Real cabs used were Marshall 1960B cabs loaded with Celestion G12-65s, Vintage 30s and G12M Greenbacks.