Bare Knuckle Pickups Warpig Humbucker Set
When you think of a name like Warpig, you're probably thinking of some old school Black Sabbath. The ominous heavy metal vibe that conjures the most dire imagery of impending doom. In the decades since, those tones have spawned doom metal, sludge metal, stoner rock, and grunge.
First off, we might have to put aside that Tony Iommi was known for P90 pickups and a Dallas Rangemaster Treble Booster at the time "War Pigs" was recorded and released on 1970's Paranoid album. Let's just move forward, looking at this Warpig set at face value.
The Warpig set came in the default configuration of Alnico 5 magnets and double rows of screws. Thick ceramic magnets and bolt poles were on standby. Because, yes, I know you guys will want the full monty on these bad boys. And who am I to argue with the smartest and most well-informed readers on the Interwebz. LOL!
In this instance, the set has short mounting legs with standard spacing and 4-con lead wire. Of course, pretty much all the options are available on this set. The poles holes are threaded into the baseplate, which is an interesting touch. That's generally a detail you see on some of the "vintage replica" level of shops.
Installation
For this application, I'm going with a double cut 2-humbucker body with maple neck and rosewood fingerboard. The guitar has 09-42 strings and is in E standard tuning. Hardware includes a German Floyd Rose double-locking tremolo system.
During the install process, I take advantage of the opportunity to hit the frets with the Lizard Spit Fret Polishing System and to apply Lizard Spit Slick Nutz to relevant friction points.
Alnico Magnets
Starting with the Alnico option and screw poles, the Warpig set is pretty full-sounding across the range. I'm very much liking the mids and highs this way. The low end is big, and maybe a little more suited for sludge, doom, and stoner rock. The precision for riff rock pedal notes really isn't there, IMHO. But it's a good option for heavy blues and lead work with a resolute presence.
From there, looking at the Alnico with the bolt poles. This does add more articulation in the lows. The mids and the highs tighten up a little as well. This makes the Warpig set handy for shred styles and also for lower tuning preferences. I can say that the bolt poles and the shorter screw poles that come with the Warpig set are much more similar in tone that expected. Not 100% identical in the most strict of sense, but definitely on the mark.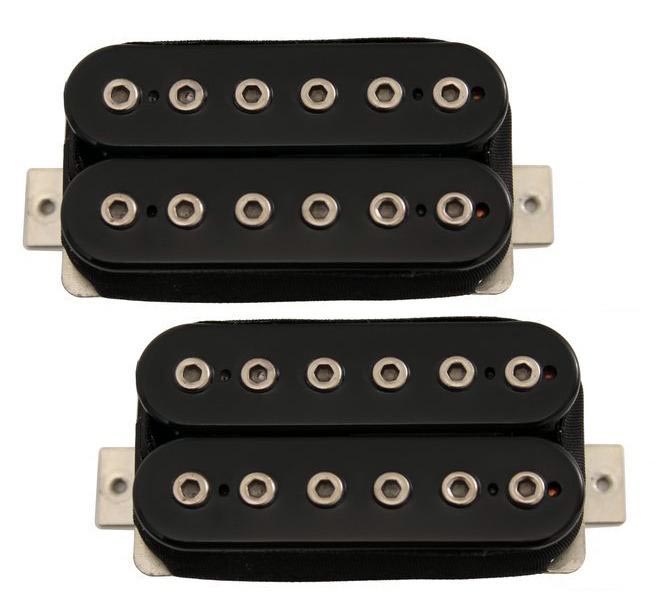 Ceramic Magnets
The Warpig with the thicker cermaic magnets is an interesting option. Yes, I did put the ceramics in the bridge and the neck. Although the neck is on the site as Alnico 5 only, you can ask for the ceramic neck option. In both pole options, the ceramic version keeps thing pretty crispy in the mids and highs. Of course, a little more so with the bolt poles, making it great for black metal styles and lower tunings.
In all configurations, the Warpigs are very harmonically responsive across the entire fretboard. The neck humbucker is also very much usable in any option, which is a bonus. And just as importantly, the Warpig set will clean up pretty darned well with either magnet or pole setup.
Demo
Here is a Warpig demo that BKP published:
Yeah, it's a only the bridge. And it's a little djenty. But I didn't expect people that read about the Warpig set to be seeking out George Benson tones. HaHa!

And then there is this demo:
Specs
Let's peek at what's under the hood:
Warpig Bridge
Series – 21.55 K
Inductance – 9.081 H
North – 11.003 K
South – 10.548 K
Parallel – 5.394 K
Warpig Neck
Series – 17.1 K
Inductance – 5.987 H
North – 8.804 K
South – 8.372
Parallel – 4.293 K
Wow! 21 K?!? Ease up there, turbo. It takes more than meat to make the sausage. Additionally, there are criminally underrated pickups with resistance in the same range. The DiMarzio Super 3 clocks in at 26.78 K. The Duncan El Diablo and Iommi models (NOT the same thing) are about 22 K. The Mighty Mite Motherbucker is 20 K, and there are pickups reviewed here up in to the 40 K range. Which is to say, don't read too much in to any one specification.
The Warpig set sort of strikes me as a bigger and meaner Aftermath set. It's going to be a solid option for hard rock, metalcore, prog rock, death metal, stoner rock, and shred. I might not have gotten the level of Sabbath that I was hoping for, but I did walk away with an offering that's more versatile than expected.
For reference, this Bare Knuckle Pickups Warpig humbucker set evaluation was conducted with a Fractal Axe-Fx II XL+ featuring Celestion Impluse Responses and Fractal MFC-101 MIDI Foot Controller. Real cabs in use are Marshall 1960B, Mojotone British, and Peavey 6505 cabs loaded with Celestion Classic Series Vintage 30s and Classic Series G12M Greenbacks.
Bare Knuckle Pickups Website | Facebook | Twitter | YouTube | Instagram
7 string 8Ω 16Ω 59 Alnico 2 Alnico 3 Alnico 4 Alnico 5 Alnico 8 Bare Knuckle BKP Brown Sound Celestion Ceramic Custom Shop Dean DiMarzio DMT Dual Resonance EVH Fishman Floyd Rose Fluence Gibson Humbucker Ibanez JB Jimmy Page MJ Mojotone Nut PAF Pariah Pickup Professor Guitarism Satch Satriani Schaller Seymour Duncan Singlecoil Single Width Speaker Steve Vai Tech Tip Tremolo