DMT Baker Act Bridge Humbucker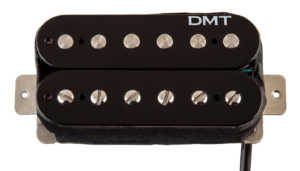 Dean Guitars deserves every bit of your valuable time when considering pickups.  Pat Baker heads up the pickup department over there.  If you can make signature pickups for the likes of Vinnie Moore and Michael Schenker and Michael Angelo Batio and Leslie West, you're doing something right.  The Baker Act humbucker is what happens when you have the skills to satisfy artists like those and then make whatever you want for yourself.
The Baker Act is like taking a classic and well-known archetype and fixing what players want improved and sweetening what they already like.  Lots of push and a touch of grind?  You got it!  A little heavy, but still open?  Alright!  Some tightness in the lows and presence in the highs?  Why not?!
As Dean is based on Florida, I'm gonna go ahead and conjure that the Baker Act is a reference to the Sunshine State's version of California's 5150 law.  Speaking of 5150, check out how 'brown' it can get in this official sample from Dean:
I picked up a Baker Act several years back.  It's been in a few guitars and is definitely a keeper.  It has 4-con lead wire and comes in standard and trem spacing.  And that's another thing I dig about Dean's humbuckers… the baseplates are regular standard dimensions.  They just move the poles for trem spacing.  No silly 3 holes on each mounting leg.  No different silly mounting hole spacing.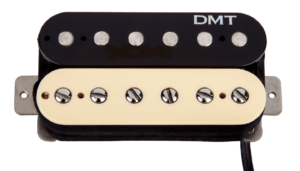 Optional covers include gold, nickel, and satin nickel.  I got mine in zebra.  And of course, double black is an option.  Mine is from a time before the DMT logo was put on the bobbin.  I don't know if there's a choice to get them without a logo.  Most logos like that are easy enough to remove, but it'd be cool to have that variable.
The Baker Act is great for 80s style hard rock sounds.  It serves up full-bodied rich lead work that cuts through the mix without driving an ice pick into your temples.  This pickup is great for harmonics, with lots of definition and dynamics.  The Baker Act has a slightly lower capacitance reading, which is no doubt a factor in all these positive traits.
Having a nice balance goes a long way for the Baker Act.  One of my tests is how a pickup responds to 80s chugging riffs on a pedal note.  We all know there can be some pretty darned well-selling humbuckers that get into a flabby territory here.  Not so with the Baker Act, with just enough tightness to pound away without getting brittle.
How about a video of the Baker Act in action, here in a promo for the Dean Deceiver model guitar:
How about some specs:
Series – 17.890 K
Inductance – 9.494 H
Split N – 8.884 K
Split S – 9.036 K
Parallel – 4.476 K
As near as I can tell, the Baker Act is a must-have for players that want all the best parts of that 80s high octane Alnico 5 humbucker character.  Plus, it's a little more affordable… and what guitarist doesn't find that to be music to their ears?!
Dean Guitars Website | Facebook | Twitter | YouTube | Instagram