Q&A: Erdem Koca of Koca Guitars
Koca Guitars interview by Professor Guitarism.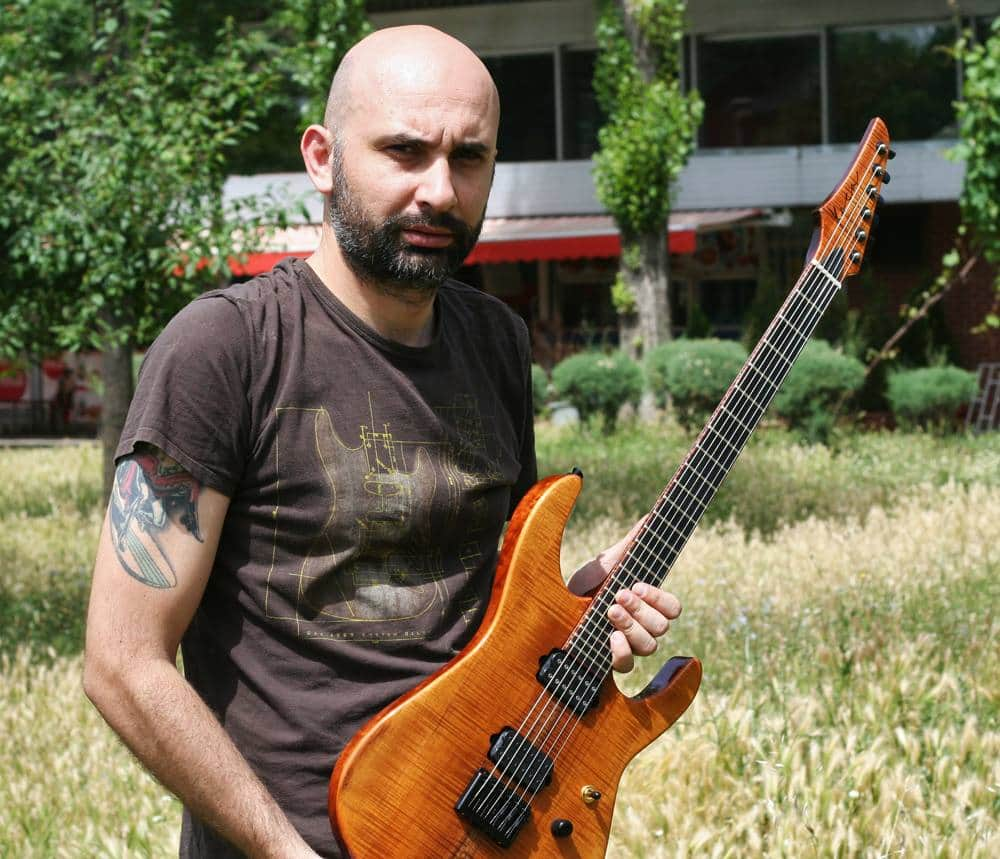 Hello Erdem. This is Baris from Darth Phineas Blog which you are welcome. I'll begin with a typical question; the one about yourself. Koca Guitars is well known in Turkiye but now you live in Florida and there are many people needs to know you and your guitars. Can you please tell me how did it all happen, how you got involved with music, guitar and guitar making etc.?
It all started at an early age with me because of my older brother. I vividly remember listening to "Ride the Lightning" and "Killers" when I was 10-11. For whatever reason my brothers interest with rock music faded away but mine grew as years passed by and at the age of 14-15 I bought my first guitar and never put it away since. Throughout the years I visited many luthiers for my guitars and I always thought what a cool profession it is and appreciated the magic luthiers create with guitars. Even though I was working in a completely different field back then at the age of 31 I decided to pursue luthiery for a while and see if it's something for me. It's been 13 years since.
You are building your very own models instead of making copies of standards of the guitar industry. Can you tell us the way from the first steps to final specific Koca Guitars models?
When I started guitar making copying the LP, Strat or Tele never excited me. There are already tons of great luthiers covering that area. I wanted to design and build what makes sense, sounds good and looks good to me. Now that I'm playing the guitar for almost 30 years I've grown certain tastes on the instrument after playing, repairing and making countless guitars. My idea is to bring together certain design elements I like from different makes and models and melt them on my own models accordingly.
Can you please introduce the Koca Guitars models; Light, Leaf, Lust, Luck. Did I forget any other? The story of the individual models, specifications, advantageous sides to your competitors, etc.?
Light is my double cutaway super strat, Leaf is the single cut, Lust is more of a metal guitar and Luck concentrates on fusion-jazz side of things. My approach to building all my models are the same, picking the best tonewoods money can buy for a certain part of the guitar, drying the woods at least 3 years before I use them (more than 5 years on many occasions), 6 bolt deep tenon neck joint for more vibration transfer between the neck and the body, straight string pull for less friction on the nut for better tuning stability, volute on the headstock to prevent breaking, using newer techniques like carbon fiber neck rods, epoxy glue where it's needed etc.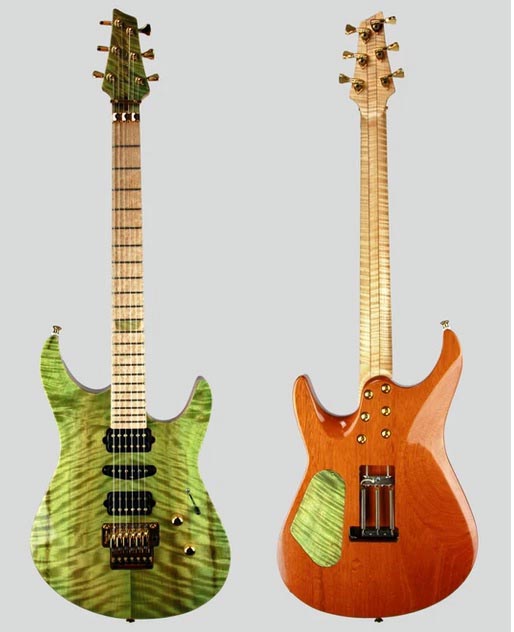 For a long while you were building guitars in Istanbul. Now you live and are making Koca Guitars in Florida. How did it happen?
I lived in Canada in early 2000s for 4 years and my brother was living in the US for the past 25 years. So I always had a North American connection. When our son was born 4 years ago me and my wife decided to move to US and rest is history. Already 3 years and counting.
Can you please give us information of building process of Koca Guitars? Do you do all of the jobs yourself or have someone to help you?
That was something I decided years ago, no apprentices, I do everything. Not that I'm against the apprenticeship process but for me if I'm taking a custom order and promising the customer a level of quality, I must make everything.
How long does it take to build a Koca Guitar from the chunk wood to final product?
It takes about 21 work days but that time has to be spread out to 4 months. Between each step of guitar making I have to rest the wood, glued parts and finish. It also depends on the waiting list as well. Right now it's about 9 months.
I always see you have a strong relation, no, it's more than a relation, it must be passion with figured woods. Sometimes it turns to a wood fetish, you know 🙂 What are the sources of your woods. What origin of woods do you prefer for bodies, necks, fretboards and tops?
You're right I like figured woods simply because they are rare and give a character to the instrument. I see them like our faces or fingerprints, unique for all of us. So if a customer is paying premium money for a custom build waiting all this time for it, not only it has to look out of this world but also it should be a one off for that customer, a guitar that nobody else can own because of the unique combination of woods we're using.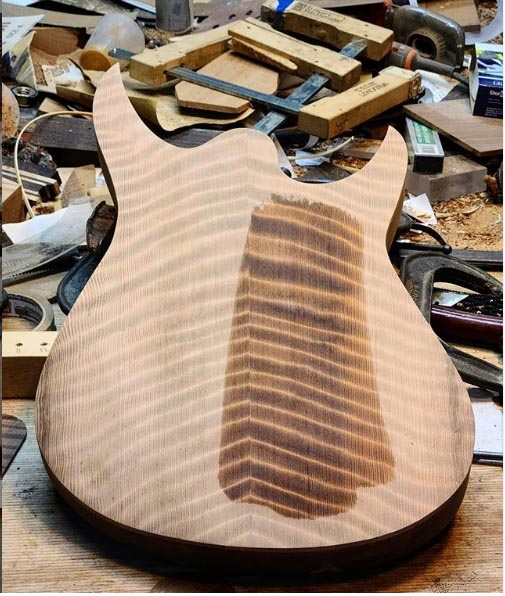 Let's talk about the necks. First of all, do you have a sawing method you prefer mostly? Plainsawn, riftsawn or quartersawn?
It depends on the the build and customer, I don't have one way of picking the grain direction on necks but usually I try to avoid flatsawn (plainsawn). Every different type of wood has a unique tap tone too it so it depends on what the customer wants tonally, pairing with the body wood, the figure on it etc.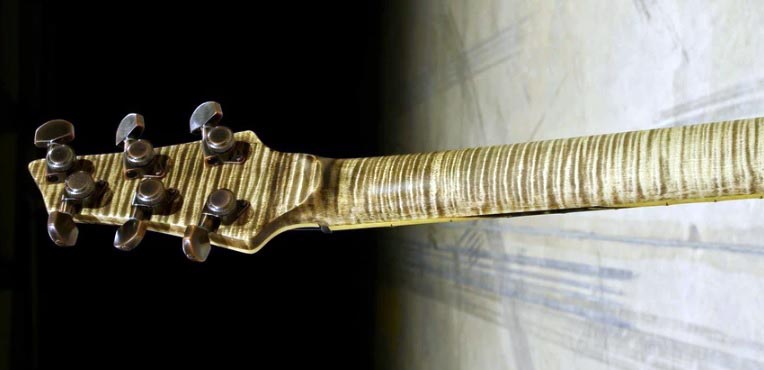 While the neck itself is one of the most significant aspects for the guitar in the manner of primary tone, comfort and play-ability of the guitar. While many companies don't give any specific info about their neck details (profiles, thickness, material etc). So what's your stand about the necks? What do you personally prefer as a guitarist or luthiere while customers may decide the profile of the necks.
I personally like medium C shape. About 20mm on the first fret and 21 on the 12th. But again I make C/D/V shapes and 19 to 25mm thick necks depending on what the customer has in mind. To me 17mm super thin wizard necks are to thin for playing and longevity and 25mm baseball necks are almost impossible to play for some styles.
I believe you are familiar with chambering cavities on the guitar bodies. What do you think about them and do you carve that kind of chambers on Koca Guitars?
Hollowbody and semi hollowbody guitars are a different discussion but chambering for weight relief and tonal qualities is something I do if I think the build needs it or if the customer's asking for it. I don't think you need it with the right selection of tonewoods but I'm not against it if the guitar needs it.
What are your thoughts and experiences with basswood, especially Tilia Americana? Many companies use it on their low budget guitars, so it is known by some as bad tonewood. On the other hand we can see Ibanez, Charvel, Tom Anderson or Suhr uses it as a body wood. Actually, for me it may be good choice for some certain needs? What do you think?
I agree it's good for 80's hard rock and that's it in my view. It doesn't go well blues, classic rock, jazz or metal to me. I don't stock it.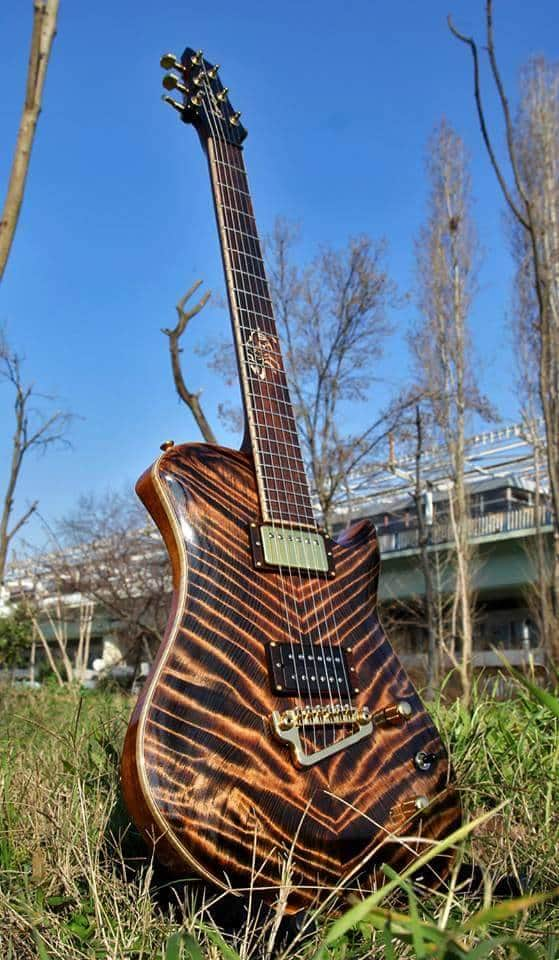 Let's come to the pickups. What favorites do you have; can you name some for the certain type of sounds?
Again it all depends on the customer and his wants and needs. I like certain brands and certain models. If I have to name a few Duncan's classic duo JB & Jazz, DiMarzio's Transition and Area sets, Lollar Imperials and Strat pickups, Benedetto A6, Nordstrand Big Singles are some of my favorites. Also on my multiscale guitars I'm working with ERS Pickups and I have 2 models with them.
Do you have a specific formula while choosing right pickup to right guitar? What tips can you give about how to choose right pickups for their certain guitars?
Unfortunately it only comes with experience. After playing countless guitars thru different pedals and amps you grow a certain taste for sound and you start to understand how to get it. It's not as easy as Alnico 2 goes good with Mahogany. My advice would be to play as many guitars as possible and come up with the ideal sound yourself. By the way that search never ends.
Whats your favorite fixed and tremolo bridges, machine heads and why?
On the hardtails I like Hipshot and Hannes. Not a big fan of tuneomatic style, I find the studs thinny and the overall bridge tailpiece combination not very stable. On regular tremolos I think Gotoh and Hipshots are good and on the FR side I like Ibanez Edge models more than the original Floyd Rose.
What do you think about the trem block and saddle materials? There are many thoughts around from traditional cold rolled steels to aluminium and to titanium alloys.
People usually think if you use the best material ever like titanium or space shuttle grade whatever, automatically your guitar will sound X times better. That is not the case. It always depends on what the guitar is lacking tonally. If it needs more sustain then yes a denser metal will give you that. Or if it's too bright yes a brass block will warm it up. It's different in every case. Trust me I've seen $10 aluminum parts adding a lot to a guitar too. So it all depends.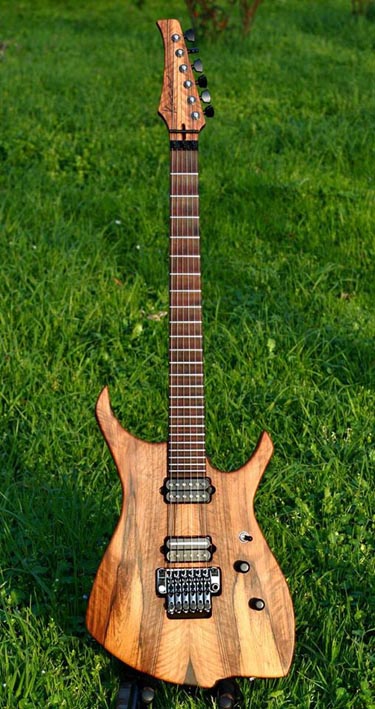 Who are your favorite guitar builders?
Michael Spalt, Kevin Ryan, Ron Thorn, Ken Parker, Michi Matsuda and many many others.
How do you foresee the future of electric guitar? You know, the technology brings many improvements like auto tuning gears, carbon fiber bodies, necks instead of woods… On the other hand, there is still undeniable group of people desires vintage gears with vintage specs…
There will always be luthiers and engineers advancing guitar building with state of the art materials and techniques and that is a good thing. But it doesn't necessarily mean that good old woods and strings concept will go away. I think these two schools of guitar making will always go side by side helping each other and feeding from each other. I don't think one is better than the other, it's a matter of taste. At the end of the day guitars just like any other musical instrument are a tool to express ourselves musically and whichever way you achieve that is totally valid.
What's your dream on making guitars? Where is the point you feel like "it's done, I'm here and I've succeeded"?
When I started this journey years ago I decided my satisfaction would come from making customers happy and to this day that didn't change. To me it's not about making the most expensive guitar or being a cover of a magazine. I feel successful and satisfied after a phone call from any customer saying how happy he is. And it's even better if that leads to another build which it often does 🙂

Its time for a game. I'm pretty sure how to play. I'll give you a word and then you will tell us shortly what does it recall firstly;
Poplar: Ikea
Florida: Sunshine
Indian Rosewood: Standard
Beer: Acid reflux
Blues: Bing bang
Titanium Guitar Parts: Why not
Yngwie Malmsteen: Odin
Active Pickups: Dead battery
Marriage: Depends on the couple
Leo Fender: Grandfather
Flamed Koa: Nutella
Turkish Guitarist: Erkan Ogur
SRV: VIP
Boobs: Essential
Endorsement: Necessary yet meeh
African Mahogany: Sometimes
Amps: Bogner & Friedman
Schaller: Made in Germany
Heavy Metal: Home
Family: Life
Istanbul: Jungle
Fame: No idea
Bareknuckle: Prefer 6 ounce gloves
Stainless steel frets: If you want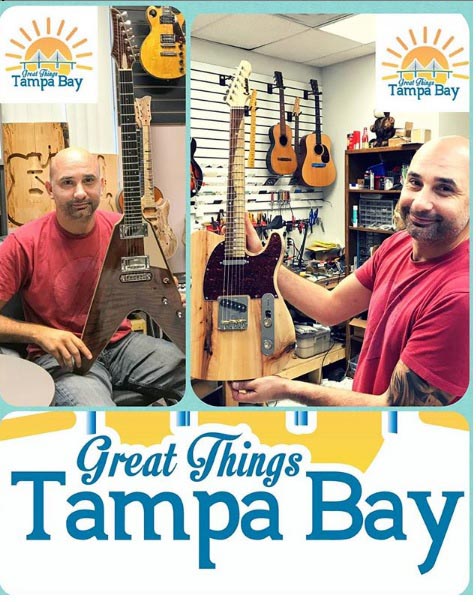 I'm done. I've come to my end of questions. Hope you like it, too. Thank you so very much. I request you to give a ending message to all of Darth Phineas readers & Take care 😉
Thank you Baris for the beautiful questions. Tone is in the fingers! Take care 🙂
Koca Guitars Website | Facebook | Twitter | Instagram | YouTube
About Professor Guitarism:
Fan of: Electric guitar. Metal, rock, progressive rock, blues, fusion jazz and classical music. Star Wars & Lord of the Rings (books). The Alien. Marillion. Iron Maiden. Dream Theater. Frank Zappa, etc.
Columnist since 2005. Published many interviews with: Seymour W. Duncan. Steve Blucher of DiMarzio. Lindy Fralin. Yuriy Shiskov. Steve Morse. Guthrie Govan. Bill Nash of Nash Guitars. Joe Satriani. Dave Weiner. Tony MacAlpine. Alex Skolnick. Dream Theater. Ian Anderson. Tim Mills of Bare Knuckle Pickups, etc.
Fields of interest: Once had a humble custom shop. Now only medium to advanced level electric guitar modifications at home. Electric guitar pickup modifications and sometimes even winding them. Trying to play guitars never done before and, naturally, achieving more and more guitars.
Professor Guitarism Website | Facebook | Instagram
59 Alnico 2 Alnico 4 Alnico 5 Alnico 8 Bare Knuckle BKP Brandonwound Brass Brown Sound Celestion Ceramic Custom Shop Dean DiMarzio DMT EVH Falbo Guitars Fishman Floyd Rose Fluence Fretboard Gibson Humbucker JB Jimmy Page John Petrucci Les Paul MJ Mojotone Nut P-90 PAF Pariah Pickup Professor Guitarism ReWind Satch Satriani Schaller Seymour Duncan Singlecoil Speaker Tech Tip Tremolo