Fishman Fluence Will Adler Humbucker Set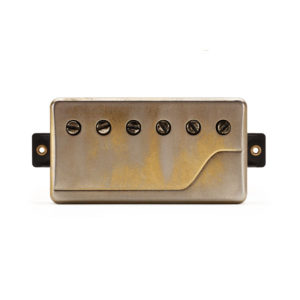 The Will Adler Signature Series pickups might very well be my favorite set of Fluence humbuckers.  Don't like a sensationalist opening?  Fine.  They might be tied for first place.  LOL!
Let me drop a truth bomb on you.  I'd not know a Lamb Of God tune if it fell out of the sky, landed on my face, and started to wiggle.  Dude.  Sorry, no offense for not knowing the band.  I suspect that the lack of any preconceived notions about Lamb Of God music comes to me as a benefit when approaching these pickups.
For this signature set, Will Adler opts for the regular Classic neck humbucker.  That's not out of the ordinary.  Keith Merrow likes the Classic neck for his signature set.  Sounds like they have something going on there that resonates with players.  So, what's up with the bridge model?  Let's check it out!
This set is in the same 2-hum guitar as used in the previous Fluence articles on the Open Core Classic, the Merrow, and the Abasi sets.  The Will Adler set currently has the connection setup where you need to run an extra wire for the "coil tap", if that's your game.  Otherwise, add your own pickup selector switch and the set comes with everything you need for Will Adler's preferred wiring.
If you like a good "distortion" class humbucker, you're going to dig on the Will Adler bridge pickup.  Voice 1 is a crushing fire-breather with the stones to push your amp hard.  This Voice is soaked in attitude and dripping with character.  Imagine your favorite archetypal "distortion" pickup.  Yeah, I know there's more than one out there, but go ahead and think of yours.  Now take away the restrictions.  The Will Adler bridge Voice 1 has power and it has finesse.  Crunch and musicality.  Girth with clarity.  It lands squarely in the realm of those pickups that make you want to keep on playing longer.
Voice 2?  Sure, I can get all technical and talk about how this Hz range does this and how it compares to another Fluence and all that.  Or… I can say that it's like taking everything on Voice 1 to an 11.  My go-to for Voice 2 is when I want to throw down some lead playing without taking it to the next channel on the amp.  The tweak in the mojo from Voice 1 to 2 hits like a boost in the frequency range that you want to hear cutting through for a solo.
To get an idea, check out this video of Ken Susi talking about, and then playing the Will Adler Fluence.  Playing starts at about 3:01.  Grab some headphones or earbuds specifically for what starts at about 4:22.
Just in case you skipped the talking part to jump to the playing part, back up a second.  Open the video on YouTube or your browser.  Ken put a Dropbox link in there to files that will let you listen to this (and other Fluence models) on your own DAW.
The Will Adler Signature Series Fluence set is great for rock, hard rock, heavy metal, thrash, metalcore, groove metal.  If you have a guitar with aged gold hardware, this set will match up like a champ.  I'd like to see other options, but I'm too busy jamming on them that I don't notice.
Players that think the Fluence Modern set is too much of this and that the Fluence Classic set is too much of that, the Will Adler Signature Series is your Goldilocks.  I am all for Fishman putting more Fluence models in the same ballpark as the Will Adler set.
For reference, this Fishman Fluence Will Adler Signature Series Humbucker Pickup Set evaluation was conducted with a Fractal Axe-Fx II XL+ featuring Celestion Impluse Responses and Fractal MFC-101 MIDI Foot Controller.  Real cabs used were Marshall 1960B cabs loaded with Celestion G12-65s, Vintage 30s and G12M Greenbacks.