Pariah Pickups Patina Model Humbucker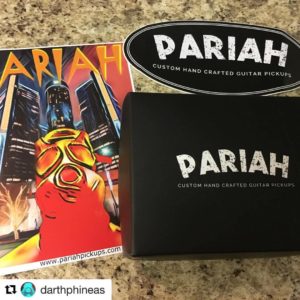 The Patina model humbucker is the first offering that I'm checking out from Detrioit-based Pariah Pickups.  Pariah enjoys a devoted following in the realm of EVH replica builders.  And I'm talking about the sort of guys that know every dent, ding, and scratch on the Frankenstein better than Eddie.  You know, the level of OCD that many guitarists strive to achieve.  LOL!  For Pariah to win over that crowd, they are doing something right.
But the "brown" models (technically, the Pasadena series) are for another time.  Today we are looking at the Patina humbucker.
Unboxing the Patina is a groovy experience.  Pariah pickups come in a presentation box worthy of custom and boutique shops.  No clear plastic case going on here!  HaHa!  They also include Pariah decal sticker and a fun retro style "art card" and mounting hardware, of course.  If you ever get a pickup from places wrapped in corrugated or in butcher paper with no screws or springs, you appreciate the little bits of effort as well.  So, 10 pts to House Pariah!
The pickup is clearly well-made and has the company name stamped in to the short leg baseplate.  This one has standard pole spacing with uncovered black bobbins.  You can get most Pariah humbuckers in the standard colors and cover options.  Check out the Pariah website and Facebook for images of some of the unique colors and covers that are also available.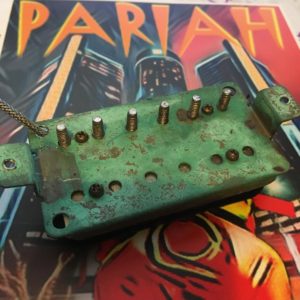 The Patina for this demo has a vintage braid style lead wire, so hookup is a snap.  It was suggested that it go in to a neutral to bright sounding guitar.  I am going with a single humbucker guitar with a Floyd Rose double locking trem.  It has a Bourns 500k pot and a Switchcraft output jack.
I am really surprised with the tone going on here.  Big, yet defined.  A very commanding presence that drips with lush harmonic richness and with a high end full of detail.  Why does that surprise me?  The Patina is a very overwound Alnico 2 humbucker.  If you've been through some of the mass-produced pickups out there, that can be a recipe for a mud pie.  Thankfully, Pariah has a different cook in the kitchen.
If you're in to hard rock, you're going to be in to the Patina humbucker.  Laying down some licks and riffs, I'm feeling some Jake E. Lee and some Warren DeMartini.  Perhaps a little Danger Danger era Andy Timmons.  Consider an archetype of a high-output humbucker.  Now add pinch of sweetness in the highs and a dash of controlled thunder in the lows.
When cleaning up, the Patina reveals another side.  Remember that I'm working with a vintage braid lead wire, so this is all in series mode.  Yet, the Patina responds to a clean amp setting very well.  Simple volume pot tweaks run the range from glassy chime up to full and warm.  The dynamic subtleties of note separation are on full display.
Here's a video from Pariah IG of a customer taking the Patina for a spin:
Ready for some specs?
DC Resistance – 16.866 K
Inductance – 8.913 H
Magnet – Alnico 2
Pariah is getting some respectable traction with touring artists as well.  Pariah models are used by Darren Smith (Red Dragon Cartel), Billy Grey & Rich Ward (Fozzy), and Michael Grant & Tracii Guns (L.A. Guns).  In addition to the Patina humbucker and the aforementioned Pasadena models, there are selections that go from vintage to classic to contemporary to extreme.  And knowing how guitar players are tightwads, you guys will be happy to see that the Pariah menu is more affordable than typical custom and boutique offerings.
For reference, this Pariah Patina humbucker pickup evaluation was conducted with a Fractal Axe-Fx II XL+ featuring Celestion Impluse Responses and Fractal MFC-101 MIDI Foot Controller.  Real cabs used were Marshall 1960B cabs loaded with Celestion G12-65s, Vintage 30s and G12M Greenbacks.