Fishman Fluence Keith Merrow Pickup Set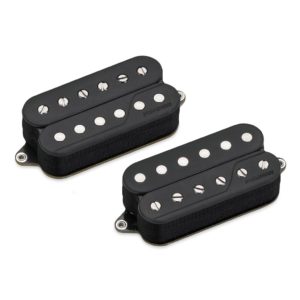 The new Fishman Fluence Custom Series Keith Merrow Pickup Set kinda sorta comes with a certain level of expectation. For the sake of full disclosure, I'd not know a Keith Merrow tune if I heard one. But Keith is known in the guitar pickup community from the time served of being roped in to another pickup company. During that time, Keith had some input in the voicing of some pickups known more for a particular sub-culture of the metal genre.
If you're expecting the Fluence Merrow set to sound like that, there might be some pleasant disappointment. But let's get to that in a second.
Let's start off with a couple of the new tweaks in the Fluence design. First up is the Open Core appearance. That means this pickup looks like a passive humbucker. Merrow is reported to have put his foot down on this feature, and I think he deserves a lot of credit. The short version is that the Fluence humbuckers had become known for looking like the active products offered by other companies. That carries preconceived notions that can startle the easily spooked guitar player community. Anyone willing to bet that more Fluence would be sold if the Open Core look were rolled out to the other models?
Secondly, there's a new variation on the wiring harness. It's called Voice 3, but it's essential a Single Coil option. If you remember my articles on the Classic and the Modern sets, you have to run your own wire to a solder pad on the bottom of the PCB for a "Coil Tap" option. This newer arrangement really makes it all easier and allows for a cleaner install. It's also something that'd be cool to roll out to the older model in future releases – I'm looking at you, Will Adler set! LOL!
For this install, I'm going with my very trusty 90s ESP M-II Deluxe. I'll be running through several sets of Fluence in the immediate future and wanted something I could leave wired up with the product-specific harness. The M-II is an alder body, maple neck, rosewood board, 24-frets, German double-locking trem, tuned to E standard with a 09-42 set. The harness is 99% Fishman, with the exception of the 3-way switch and a few wires. This is a 6-string guitar.
How do they sound?!?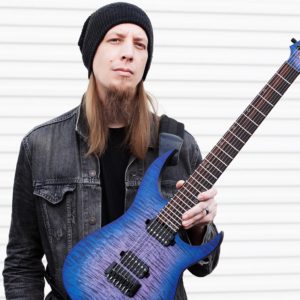 The Merrow neck is the Fluence Classic neck humbucker. Voice 1 is like a vintage PAF neck tone. And Voice 2 is slightly more precise and defined. Then Voice 3 is that single coil tone. If you've been following the Fluence line at all, you're familiar with the Classic neck and you don't want me to waste your time. LOL!
What you're here for is the Merrow bridge humbucker. Fishman markets the bridge Voice 1 as medium output and the Voice 2 and low output. The whitecoats in Fishman labs might have ways to measure those outputs. But I'm here to tell ya that you're not going to have to worry about a weak or wimpy vibe. I'm totally getting the punch and crunch and power and sustain on my regular dirty channel, with no need to dial in the "Jose mod". Not saying they are not medium and low output. Just saying they are voiced to hit your ears with more than that suggests.
Voice 1 for the bridge is not really what you'd expect if you follow what Merrow was using previously. The dry, flat, congested, itchy tone is left behind. It's superseded with a character that far more transient with responsiveness to spare. In Fluence fashion, you get lots of headroom that translates into the dynamics you want to accentuate the nuances in your playing style. There is precision and focus without being sterile and brittle. The mids have a bit of a snarl going on. Highs are snappy.
Voice 2 is like there's a bit of sag dialed in to pump in a little more presence across the bandwidth. This tone might fall under what some might think of as vintage-hot. Some of the marketing suggests you can get a little 'brown' with the Merrow bridge Voice 2. The deal is that 'brown' has come to cover so many different things over the past 40 years. I've laid hands on the majority of the 'brown' pickups out there. And there is just no way to win with the aficionados of that tonal goal. So… check out a clip from Keith's Instagram of Voice 2 to let your ears do the talking. Now you're about to head over to Keith's Instagram account, you may notice he has a fair number of followers thanks to his talents! But, are all of these followers from organic methods or has he used an instagram manager to help him along the way? Let us know in the comments what you think? Either way, Keith has pulled off some serious progress in the last year or two. He serves as a good example for others looking to showcase their talents online and become the masters of their own promotion with the goal of maximizing their instagram followers to reach the most amount of people that they can. Here's the post:
Both Voice 1 and Voice 2 work out really well on a clean amp tone. Slightly full, but not so pushy that it invites nasty break up. Voice 3 on the Merrow bridge is clean and glassy and sparkly. All in the way that you expect a single coil to be.
Yeah, so you saw "Merrow" and you're here to sample the atmospheric death metal that generally accompanies that name. Not one to disappoint, here's another official sample:
Coming around to what people think of the Fluence line, I can say that I'm enjoying the tone I'm hearing from the Keith Merrow set. This set sits in the mix really well. It's also super versatile, which is key. And thankfully, it's not just a rehash of what was already done elsewhere. I've checked out 5 sets of Fluence, with another set on the way. This Merrow set is in a tie with the Will Adler set (review to come soon!) for my favorite. I can say that I'd like to see the 7-string Merrow set available in the "Vai green" that would match up in my Ibby Universe!
For reference, this Fishman Fluence Custom Series Keith Merrow 6-string Pickup Set evaluation was conducted with a Fractal Axe-Fx II XL+ featuring Celestion Impluse Responses and Fractal MFC-101 MIDI Foot Controller. Real cabs used were Marshall 1960B cabs loaded with Celestion G12-65s, Vintage 30s and G12M Greenbacks.
Fishman Website | Facebook | Twitter | YouTube | Instagram