Mojotone '58 Quiet Coil HSS Pickguard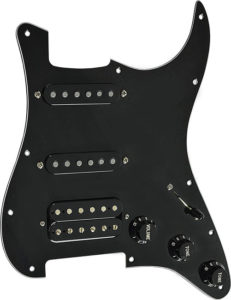 The '58 Quiet Coil HSS pickguard has been on my radar since first introduced.  The setup has drool worthy appointments and is set up for an installation so easy that your drummer can do it!  LOL!
For this bad boy, I installed the '58 Quiet Coil HSS pickguard in my 1990 American Standard Stratocaster.  All the holes line up perfect and it slips into place like a champ.  The wiring is super clean and very efficient.  I'm impressed by how the lead wire for the bridge humbucker is managed so that there's a lot left while being tucked very much out of the way.  I'd imagine no need to every remove it, but when you are swapping pickups as much as I do, the image of a short lead wire gets burned into the retinas.  HaHa!  Seriously, the wiring job on this pickguard inspired me to up my game many levels.
From there, the '58 Quiet Coil HSS pickguard is wired so that position 2 gives you the middle position '58 Quiet Coil and a split coil from the bridge '58 humbucker.  Yep, you get a quack in both in-between positions!
The volume pot has a very nifty no-solder connection for the output wiring and a treble bleed cap.  It comes with a pre-wired output jack, ready to install into your jack plate.  When they call it solderless, they mean it!  A very sweet looking oil-filled cap is used for the master tone.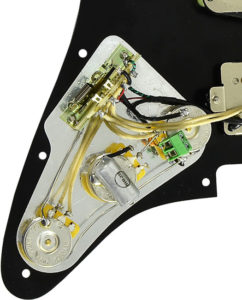 Mojotone amps it up with a unique blender control on the 3rd pot.  When the blender pot is full out on 10, the guitar operates as normal.  As dialed down toward zero, positions 1 and 2 blends in the neck '58 Quiet Coil while positions 4 and 5 blend in the bridge humbucker.  Put all those controls in to play and factor in all the tonal options available from a single guitar.
The pickup selection for the '58 Quiet Coil HSS pickguard is a nice choice.  Of course, you have the '58 Quiet Coils in the neck and middle.  It's cool that they worked up a '58 humbucker exclusive to this pickguard.  I do really hope this one ends up available on it's own.  It's a very well-voiced PAF style humbucker that has excellent tonal balance and just enough output.  I could really go on and on about the bridge humbucker.
I'd like to call the '58 humbucker the star of the show, but there are just too many features on the '58 Quiet Coil HSS pickguard for any one thing to distract from the tone and operation of the unit as a whole.
Check out this demo video from Mojotone:
How about that?!  What do you say we check out some specs:
'58 Quiet Coil Neck & Middle
Series – 5.85 K
Inductance – 2.327 H
Bass – 3.5
Mid – 4
Treble – 7
Magnet – Alnico
'58 Humbucker Bridge
Series – 8.32 K
Inductance – 4.344 H
North – 4.08 K
South – 4.24 K
Parallel – 2.08 k
Magnet – Alnico 4
Let me lay it out like this.  You're getting a hand-wire pre-loaded pickguard with an impressive attention to detail at an extremely competitive price.  Even more so when you take into account the quality of the parts in the harness and special wiring for the blender pot.  I don't think you're going to find anything else that comes close to the '58 Quiet Coil HSS pickguard for tone and bang for the buck!
For reference, this Mojotone '58 Quiet Coil HSS pickguard evaluation was conducted with a Fractal Axe-Fx II XL+ featuring Celestion Impluse Responses and Fractal MFC-101 MIDI Foot Controller.  Real cabs used were Marshall 1960B cabs loaded with Celestion G12-65s, Vintage 30s and G12M Greenbacks.