DiMarzio Virtual PAF DP197 Humbucker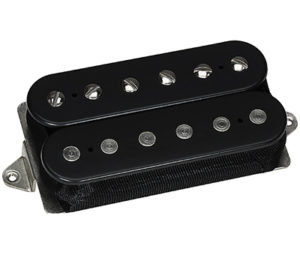 The Virtual PAF humbucker is obviously cut from the same cloth as the Virtual Hot PAF that DiMarzio also used to make.  So, you ask, why discuss products that DiMarzio no longer makes?  Well, I say, because it's a pretty darned good pickup.  Is it just a lower output version of the VHPAF?  My ears give that a big nope.  Let's take a peek.
It'd be easy to think you can get a Virtual PAF from just using the VHPAF and turning down your gain or volume.  There's a little bit more going on that just a little more or less sizzle.  What about the all the other 'PAF' models that DiMarzio has out there?  Other people have already made the case for the Virtual PAF amid those comparisons, so I'll avoid stepping through that mine field if it's all the same to you.  LOL!
You can still find a few of the Virtual PAF pickups online here and there.  All I could find when I looked was a double cream, so I'm guessing that's causing a few heads to explode for better or worse.  Haha!  It's installed in a fairly neutral-sounding single hum super Strat, wired for series/parallel operation.  The Virtual Hot PAF and the PAF 36th Anniversary Bridge have been in the same guitar.
Starting with a dirty amp tone, I can smell what the Virtual PAF is cooking.  A very densely rich harmonic palette to work with.  The multi-dimensional quality of the mids and lows just kept me riffing away more and more.  There's nothing that I can try that the Virtual PAF isn't up to the task.  Lows are full, yet precise.  The tone is dialed in to avoid the pitfalls of boom and mud and flab as well as rigid and brittle.  Players that hit the rhythm styles of Zakk and Dime and Sykes will enjoy the bliss of the harmonic squeals popping off the lower notes.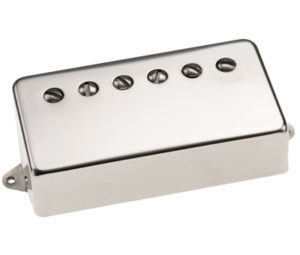 There is an excellent responsiveness in the upper mids and the high end that accentuate subtleties in finger style.  You have room for the nuance of a low-to-medium gain bluesy vibe.  Notes respond to being controlled for an almost effortless sustain.  As you'd want with any good pickup, variations in pick attack will result in highs that can be sweet or edgy.
On a clean amp tone, the Virtual PAF has it going on.  Series mode is not at all too strong.  Hit it hard and there's still plenty of headroom.  Going to the parallel wiring option and things are quite chimey and glassy with plenty of sparkle.  Working these two wiring modes along with the volume pot will get you pretty much any tonal character you'll need.
No official video that I can find, but DiMarzio does have a MP3 sound bite of the Virtual PAF if you click HERE.
Want some specs?
Series – 8.403 k
Inductance – 4.471 H
Split north – 4.201 k
Split south – 4.195 k
Parallel – 2.098 k
Output mV – 230
Treble – 5.0
Mid – 6.0
Bass – 6.0
Magnet – Alnico 5
The Virtual PAF is going to cover a lot of bases for any player.  It is right at home with bluesy and raunchy and riffy and poppy and heavy and even some brutalz.  Of the different DiMarzio 'PAF' options I've tried so far, this Virtual PAF stands alongside the Virtual Hot PAF, the PAF Pro, and the PAF 36th Anniversary Bridge as ones I'd keep within reach.
Go hit up the internet and see if you can track one down for yourself.  Who cares if it's not the bobbin color or the pole spacing that you think you need.  The tone is worth it.  Follow up by signing the petition on DiMarzio Forum to put the Virtual PAF and Virtual Hot PAF back in to production and then hit up DiMarzio on social media (links below) with the same message.
For reference, this DiMarzio Virtual PAF DP197 humbucker evaluation was conducted with a Fractal Axe-Fx II XL+ featuring Celestion Impluse Responses and Fractal MFC-101 MIDI Foot Controller.  Real cabs are Marshall 1960B cabs loaded with Celestion G12-65s, Vintage 30s and G12M Greenbacks.