A Rose By Any Other Name: Floyd Rose Tremolo Comparison
No other locking tremolo system is as recognized as the Floyd Rose.  And after about 40 years, the Floyd Rose brand is so well-known that it's the default designation for most any brand of double-locking tremolo.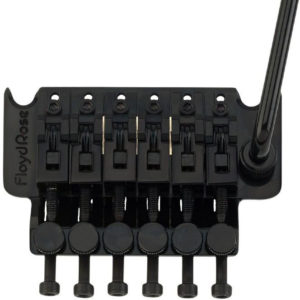 The Floyd Rose can also be at the source of deeply heated opinions.
An early exposure to someone not caring for the Floyd Rose was an old-school Stratocaster player that had fits with double bends on a floating tremolo.  More recently, it seems that the most common complaint would be of players that simply cannot or will not learn how to set them up properly.  Kids these days!  LOL!
And there are players that will not do without a Floyd Rose.  As far as I'm aware, Reb Beach is a player that is able to get not one (Ibanez), but two (Suhr) companies that are known for adamantly NOT using real Floyds to put a real Floyd on his guitars.  I also know an artist that left an endorsement over not being able to get a real Floyd on his guitars.
Personally, every guitar that I own has or has had a version of a Floyd – see what I did there!  haha!  That's right!  There are different versions.  What's up with all these different versions of the Floyd Rose tremolo?  Let's take a look at some of the more well known options out there.
The Original Series.  This is the classic German-made (for now) rig.  It's been the flagship for a reason.  Cast and treated steel that is durable enough for the most enthusiastic sadist to tire before it does.  When it comes to the 'Original' lineup, the only thing I'd like more would be the 1984 model.  The 1984 comes with a brass sustain block, brass fine tuners, and 'old style' tremolo arm.  If you're going to put a brass block on it, just go with the 1984.  It'll come out costing the same and the 'old style' arm is worth it.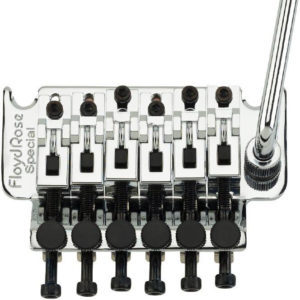 The 1000 Series.  At this time, only available as OEM on a new guitar.  The Korean-made 1000 Series is suggested as the equivalent of the 'Original' German Floyd Rose.  In my opinion, it is not.  The 1000 series is a passable system that can help keep down the cost of a new guitar purchase.  It's also probably just fine for light tremolo users.  I've seen the pivot point and knife edges of some 1000 Series parts show alarming signs of wear with just a few hours of use.  If you are going full-time Dime or Vai on your rig, tread cautiously.
The Special Series.  Offered as an alternative to the plethora of licensed versions across the market… well, that should say it all.  I believe the contact points on this model are supposed to be treated for durability.  Saddles and sustain block are "zinc alloy".  Like the 1000 Series, the Special Series is also made in Korea.  While there is word that the Floyd Rose company pays as little as $35 per unit for the 1000 Series unit, there is commentary that $25 (or much less) is paid for each Special unit.  We can do the math on how that may or may not equate to any level of quality.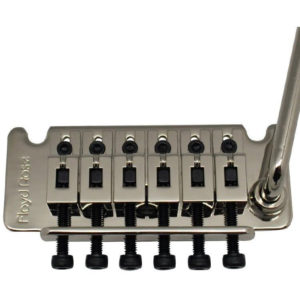 The Non-Fine Tuner System.  More than anything, I seem to hear the most confusion about this one.  People see photos of the locking versions before the "whale tail" and think this is the same.  Meh, not so much.  This Floyd Rose system was getting a little attention when Guthrie Govan put it on his signature Charvel.  And then Charvel simply made their own version.  More recently, I suggested it to Abasi Guitars, when asked for an option for their 6-string model.  You can see it in videos from this year's NAMM (of Greg Koch playing).
The Schaller LockMeister.  Technically not a Floyd Rose, or is it?  Made by the same German company that makes the Original series, pretty much only the name is different.  I have 2 of these and I put them up there with the quality of the Floyds I've had since the 80s.  The LockMeister also proves that a 'new style' arm can be made that will stay in place.  I'm seeing them right now on eBay and Reverb at a more affordable rate than buying a new German system from the Floyd Rose website.
There are a few other Floyd Rose systems, but I think these are the basic models that most people think of.  The Hot Rod series comes up here and there.  Sure, it looks nifty and deters corrosion.  My research and experience is that it's not as strong as the original black oxide parts.  If the places offering stainless steel want to source stronger parts and publish the specs, I'll consider giving it another go.
In fairness, I have been hearing more issues with QC.  Without going all Suhr-levels of anal-retentive about specs on saddles, it's a growing issue in other parts.  For one, it's just inexcusable for there to be so many issues with the 'new style' arms coming loose.  Floyd Rose knows about it and simply advises people to MacGyver it.  More recently, the tolerances in the mounting studs/inserts have been off enough for a lot of them to be returned as unusable.
My favorite?  All things being equal (i.e., all QC issues resolved), the 1984.  Any difference would be dependent on the application.
The Floyd Rose systems have come a long way since the late 70s and early 80s.  There used to be 3 colors.  Now there are 10.  There are versions for right-handed and left-handed players.  They come in 6, 7, and 8-string options.  For the most part, a good understanding of the product's operation will make all the difference.
And for those keeping up with current events, I'm curious how the proposed steel tariffs might affect the imported Floyd Rose systems.  Knowing how cheap guitar players can be (LOL!), does the Floyd Rose company think it can pass along those rate hikes to customers without some feedback.  Ha!  A pun!