Suhr DSH+ Bridge Humbucker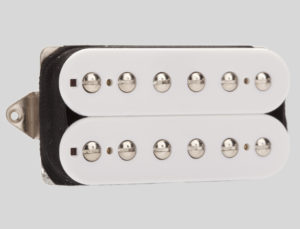 The Suhr DSH+ humbucker is one that I've been wanting to try for a while.  I definitely like the SSH+ a lot, but have been curious as to what it'd be like with a bit of the high end tamed just a smidge.  That is where the DSH+ comes in.
The Suhr naming structure may or may not be common knowledge, so if the experts can just skip over this part.  LOL!  The names are frequently the description of the pickup.  DSH translates to Double Screw Hot.  Two rows of filister screws.  SSH would be Single Screw Hot.  One row of filister and one row of slugs.  The plus sign in DSH+ means it is hotter than the regular DSH.
The DSH+ is generally an option to be requested on a Suhr guitar or bought as a stand-alone purchase.  Which is to say that it's not currently offered as a stock option on a Suhr guitar.  One of the groovy things about Suhr pickups is the 'triangle' or 'delta' mounting tabs.  Added to that, they have the same baseplate dimensions for standard or f-space poles.  As such, they can fit just fine in some of those hard-to-fit guitars we've all seen.
For this evaluation, I paired it with a Thornbucker neck to keep everything in the Suhr family.  The 4-con wiring on Suhr humbucker allowed me to wire each pickup to it's own mini toggle for series/split/parallel operation.
The SSH+ is standard equipment in most Suhr Modern and Standard models, so you'll see it mentioned here and there as a reference point.
Right away, the DSH+ is a little bit punchier and a little bit throatier than the SSH+.  Lows have a bit more presence, while highs are slightly more refined.  If you like the output of the SSH+ but want a little less edge, the DSH+ is your huckleberry.  From what I remember of the Aldrich bridge humbucker, I might even put the DSH+ between the SSH+ and the Aldrich.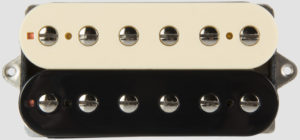 One of the characteristics of Suhr pickups that keeps me coming back is the transparency.  Some call it clarity or refer to it as being more open-sounding.  Blend that with extra serving of beef and you have yourself a really solid humbucker.  You have your note separation with a bit of thunder mixed in for good measure.
Dirty amp tones are gonna hit you in the chest with authority.  Riffs are powerful and lead work is in your face.  The DSH+ is a harmonically rich offering, so it's all good when it comes to your Van Halen and your Vai and your Dime squeals.  The clean amp tones are where consideration is needed for how powerful the DSH+ can be.  Look to split or parallel wiring and tweaking your volume know and maybe even working those options together to dial in a nice chimey character with just enough glass.
I'd really dig to be able to throw down a video or an audio example of the DSH+, but there are no official Suhr sample of it to be found.  So, John, my man… you think you can throw something into the hands of Pete Thorn or Steve Stevens long enough to dish out some groovy smokin' hard pipe-hittin' DSH+ tones for the masses?
For now, here are some specs:
Series – 17.292 K
Inductance – 8.106 H
Split N – 8.661 K
Split S – 8.67 K
Parallel – 4.325 K
Magnet – Alnico 5
The DSH+ is gonna be great for you if you're looking for hard rock and even most metal.  It's also versatile enough to get you into blues rock and punk and alt-rock and I think I'll even suggest it for djent and similar "brutal tone" genres.
For reference, this DSH+ pickup evaluation was conducted with a Fractal Axe-Fx II XL+ featuring Celestion Impluse Responses and Fractal MFC-101 MIDI Foot Controller.  Real cabs used were Marshall 1960B cabs loaded with Celestion G12-65s, Vintage 30s and G12M Greenbacks.
Suhr Custom Website | Facebook | Twitter | YouTube | Instagram