Seymour Duncan Announces "Weekend At Seymour's"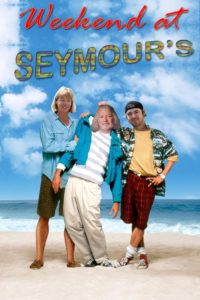 April 1, 2017 (Santa Barbara, CA) – Carter Duncan Corporation, doing business as Seymour Duncan, a manufacturer of pickups and pedals, announces the release of of "Weekend At Seymour's" to air on Comedy Central.
Advertised as a "biographical comedy", the made-for-TV movie follows the amusing hi-jinks of Seymour W. Duncan's ex-wife, Cathy Carter, and son, Derek Duncan, as they pull Seymour out of semi-retirement and back into the marketing spotlight.
Max Gutnik, Seymour Duncan's SVP of Products and Chief Revenue Officer, said "If there's one thing I learned from working at Guitar Center and Line 6, it's how much guitarist like to laugh at farcical ideas."
The amusing knee-slapper follows the company as it reels from a trend marred by the loss of sales, marquee artists, long-time customers, and key employees. Hilarity ensues when side-splitting plans are hatched for Winter NAMM to distract customers and the music gear industry alike from another year of fragile New Product offerings.
Will photo ops and industry appearances from Seymour be enough to keep the wolves at bay? Tune in to Comedy Central for "Weekend At Seymour's" and laugh your way to the madcap finale!
Shot on location in Santa Barbara, Los Angeles, Hollywood and the beaches at Big Sur.  "Weekend At Seymour's" stars Jeff Bridges as "Seymour W. Duncan", Tilda Swinton as "Cathy Carter", Joe Pesci as "Max Gutnik", Sofia Vergara as "MJ", Sam Elliott as "Marc Boomer", Shannen Doherty as "Elysse Miller" and Shia LaBeouf as "Derek Duncan"
About Seymour Duncan
Seymour W. Duncan celebrates a rich history as the world's leading pickup and pedal manufacturer. Since 1976, Seymour W. Duncan has helped the world's artists develop their own unique, signature sounds.
Seymour Duncan Website | Facebook | Twitter | YouTube | Instagram
Yes, it's April Fools.