Bare Knuckle Pickups Riff Raff Humbucker Set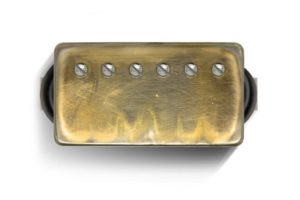 The Riff Raff humbucker set is something I grabbed at the same time as The Mule set.  You might remember me looking for an excuse to try what BKP considers their 'Jimmy Page' set: The Mule neck and a Riff Raff bridge.  So, why not grab full sets?  Plus, considering the nod to the AC/DC song of the same name, it is an opportunity to have a comparison to the Angus Young humbucker set released by Duncan in 2016.
But first things first.  What's going on with the Riff Raff set?  I can report that they are solid pickups.  When you order direct from Bare Knuckle, you can choose the options you want.  I prefer the versatility of short mounting legs and 4-conductor lead wire.  And it looks as if I managed to get my order before BKP raised their prices, so color me happy.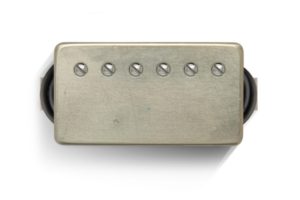 The Riff Raff set is installed in the same double hum guitar most recently home to that aforementioned Angus set.  Bare Knuckle also include a set of strings in the box with the pickups.  How's that for thinking ahead on behalf of the players that need to change string during a pickup swap?  Very cool!
How do they sound?  Overall, a touch of compression to the character.  Maybe it's a result of the slightly more aggressive take on a vintage character.  Or perhaps it's how the low end is kept under control without becoming brittle.  With that in mind, if you want a wolf in sheep's clothing, consider the Riff Raff.
On dirty amp settings, it riffs with authority (ha! a pun!) and gives open chords an sense of command.  Yet, as with a vintage-class pickup, the Riff Raff allows for nuance.  The neck position is great for heavier or more assertive blues styles.  Going to cleaner amp settings, you can expect a touch of deliberate focus and a bit of chimey goodness.
Open your ears and lay your eyes on this video from BKP of Little Angels guitarist Bruce Dickinson.  The Riff Raff neck comes in at about 04:15
"What about the AC/DC similarity?!", you ask.  I'll be covering that in an upcoming comparison article.  Stay tuned!
How about some specs:
Riff Raff bridge
Series – 8.249 K
Inductance – 4.685 H
Split N – 4.184 K
Split S –  4.059 K
Parllel – 2.059 K
Magnet – Alnico 5
Riff Raff neck
Series – 7.49 K
Inductance – 4.837 H
Split N – 3.779 K
Split S –  3.701 K
Parllel – 1.869 K
Magnet – Alnico 5
Bare Knuckle Pickups Website | Facebook | Twitter | YouTube | Instagram
For reference, this Riff Raff set evaluation was conducted with my old trusty amp, as well as a Fractal Axe-Fx Ultra, and a Fractal Axe-Fx II XL+.  Cabs are a Peavey 6505 cab with 12″ Sheffields, and a Marshall 1960B cab with 12″ Celestion G12-65s.