Bare Knuckle Pickups Nailbomb Humbucker Set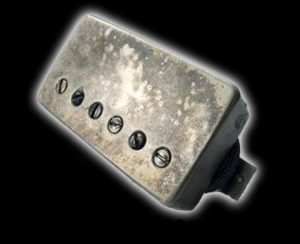 The Bare Knuckle Pickups Nailbomb set is something I looked at for a very specific situation.
A buddy let me check out one of his main guitars, loaded with a Warpig set and another one with a Stockholm model HSP-90 neck. BKP has a reputation for scatter-winding pickups by hand and pairing the best components for a tone and a voice generally regarded with descriptions that include as "clarity" and 'quality'.
Based on the models I've already tried, I looked at the BKP lineup when I developed a unique tonal need. After over 2 decades of service and abuse, I wanted to replace the body of my American Standard Strat. It was alder, and something about it was a bit of a tone robber.  I opted for a replacement body from Warmoth Guitar Products made from poplar, which made things a little snappier and brighter. The pickups I'd chosen for that guitar were now not matching up the same and my new selection over-compensated… resulting in the tonal variation being a little more than expected.  A good chance to check out the Nailbomb set, which seem to get very good feedback from users. How's that for making lemonade?  HaHa!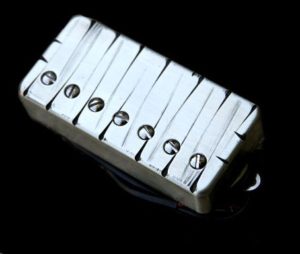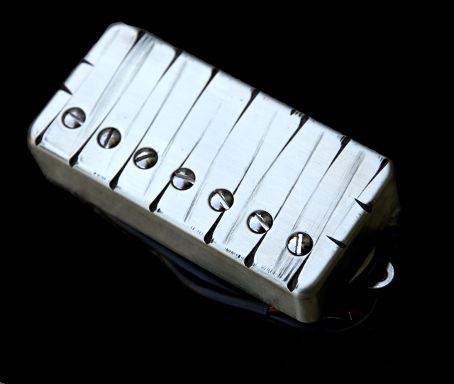 I went with all Alnico 5 magnets in this calibrated set. There is also a ceramic magnet option for the bridge model. The neck is wired up to a push/pull pot (to go between series and parallel mode) and a Switchcraft 12120x 3-way toggle, going out to a Switchcraft #11 1/4″ jack. Not quite your typical Stratocaster setup, right? Well, I did say the original body had been up to a lot of abuse over the years….mainly to modifications! LOL! The Strat also has an older 80s German double-locking tremolo system.
The Nailbomb set is a great fit for this guitar. Plenty of grind and growl and bite, making it an excellent fit for high-gain high-energy riff rock. The bridge position is delivering edgy highs, mids with that roaring growl and a low end that is a little big but under control. The neck position gives sweet highs with plenty of drive to handle lead work with sustains notes…. the mids in a neck position can make or break a tone, and the Nailbomb neck nails it out of the gate….the low end seems to straddle that line of bigness that means it avoids girth without being tight.
What's the difference between the alnico and the ceramic version?  Check out this video from BKP:
The overall voice in interesting for an alnico-based pickup. Since the pickup is sensitive to playing styles, the right type of aggressive technique will produce a grind that almost sounds like a ceramic magnet. In fact, I talked to a huge fan of ceramic magnets that is sold on a Nailbomb neck humbucker he's been trying in his guitar.
On a clean amp setting, the bridge pickup is clearly going to spank your amp into breaking up. When I switched to the neck position and then took it into parallel mode, it handed out a really nice clean tone. A little woody when strumming and a very nice balance for single notes…a good blend of big, yet firm lows and chimey, yet refined highs.
How about some spec?  Well, you betcha:
Nailbomb Bridge
Series – 16.48 K
Split N – 8.42 K
Split S – 8.06 K
Parllel – 4.12 K
Magnet – Alnico 5
Nailbomb Neck
Series – 10.44 K
Split N – 5.33 K
Split S – 5.11 K
Parllel – 2.61 K
Magnet – Alnico 5

The Nailbomb set is a well-voiced pickup for a contemporary hard rock style. Articulate, big, transparent, punchy…it's in there. It comes in 6, 7 and 8-string versions, with open coils or with a very wide selection of covered options that include nickel, raw nickel, aged nickel, black, gold, chrome, burnt chrome, camo, tyger and more.
They are a bit spendy.  There are dealers that carry this brand as in-stock items.  That's not saying they will have the options you want and you might be victim to the exchange rate they paid when they got them.  You can always order direct and roll the dice on how long it might take.  As always, I suggest dealing directly with whoever you order from to help make the best of your experience.
Bare Knuckle Pickups Website | Facebook | Twitter | YouTube | Instagram