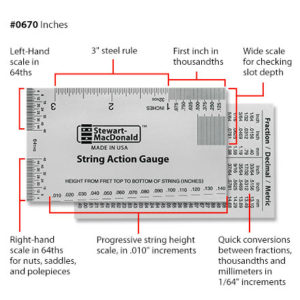 Do you like to "eyeball" or "go by feel"?  Maybe use the old "coin trick" to check some string clearance?  Go ahead and admit it, we're all in the same 12-step program around here, aren't we?  LOL!
Yet for me, at least, I've been finding that my setups still become more and more refined the more that I focus on the smallest of details.  String clearance is one of the most critical details to get right on a guitar.  Pick a fret, any fret.  Most are used to measure action or nut clearance or even the bow in the neck.  String clearance is also good to dial in a starting point for pickup height.  It's also great for saddle slot depth and fret slot depth.
So, you say, didn't you talk about a string measuring gauge once before?  Yep.  Sure did.  The Nut Slotting Gauge.  And that one goes in my Top 3 list of game changers for awesome guitar setup.  What's the difference, daddy-o?  Let's look…
No moving parts – it's pretty much a solid piece of durable metal with etched markings.  Size – we're looking at the footprint of a credit card, making it easier to keep in your case or gig bag.  And my favorite feature is how it spans multiple frets, providing better stability for more accurate measurements.
Just in case, you can get them in either standard or metric.  The ones that I bought from StewMac have Metric-Decimal-Fraction conversion charts on the back.
Even if you don't do your own setups, tools like this are valuable.  You can make note of your ideal specs to better communicate with your guitar shop tech… or if you have to have something done by a different tech for whatever reason.
Check out this video of a String Action Gauge in use:
You can find your String Action Gauge online at places like StewMac or other luthier supplies.