Seymour Duncan Custom Shop Alpha Omega Pickup Set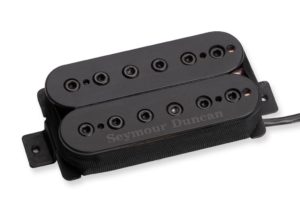 The Alpha Omega humbucker set is something that Seymour Duncan put together for Mark Holcomb, of the band Periphery.  You might remember my review of the DiMarzio Titan humbucker set, the signature set for Periphery bandmate Jake Bowen.  To offer some background on where Mark's wheelhouse has been on his approach to pickups, he had been using the DiMarzio D-Activator, the DiMarzio Dominion neck, and a custom DiMarzio set.
For this review, I installed the Alpha Omega set in a double-hum guitar with a German-made double-locking trem.  Each pickup was wired to an independent 3-way mini-toggle so that each humbucker could go from series to split to parallel.  A Switchcraft 12120x 3-way for main pickup selection, then out to a Switchcraft 151 1/4″ jack, all connected with aeronautical grade shielded hookup wire.
Something that's groovy about the appearance is the dark logo.  I see and hear from artists and a fair share of regular players that prefer their pickups with no logo or a logo that is at least very unobtrusive.  As you can see in the photos (go ahead and click for the bigger versions), Seymour's logo is subtle and tasteful.  While customers can always order them with no logo, I think this is a nice alternative for the crowd wanting the "low key" option.
Out of the gate, the set falls into the same modern-style character of the aforementioned pickups, as well as Seymour's Black Winter set and other similar focused aggressive-sounding humbuckers.   The Alpha Omega set has characteristics that look a bit more like vintage-hot pickup on paper, which is the case with all the pickups associated with the Periphery guitarists.  Driven by ceramic magnets and a bit of secret sauce, the Alpha Omega set blasts beyond the notion of being a moderate output set of pickups.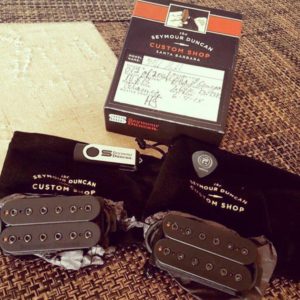 The overall tone is pretty even.  The low end stays punchy while the mids maintain balance.  The high end is edgy, with plenty of cut.  There is a clarity to the vibe of the Alpha Omega set that makes it a good candidate for today's rock guitarist needing to jump out of a dense mix.  Not being clear on what tunings that Periphery uses, I kept things at standard E.  Seems to me that is a fine tuning for these pickups, although I can see them handling lower tunings just fine.
The Omega bridge is a strong offering, with a nice balance of character and grind.  Plenty tight for the chugging rhythms, but not brittle.  I can dig that it's not too heavy sounding and it has enough clarity so that you will need to play better at the risk of the crowd hearing that you skipped band practice for time on the beach with that swimsuit model.  Wait… is that a bad thing?!?  This sort of edge and transparency also comes in handy when pushing through some of today's layered amp modeling processors.
It's the Alpha neck pickup that is a little interesting to me, in so much as it has a touch of Seymour's neck pickup character going on.  Alright… no duh, right?  Ha!  Yeah, I know.  But… there was that midrange vibe that I seem to hear more in Seymour's neck-position humbucker when playing lead work.   Meanwhile, the low end remains clear and harmonic squeals are a breeze.
Remember the part about being aggressive?  I do have to say it takes a little more to ease off the reins on these pickups for sparkly clean chimey glassy clean tones.  I understand that "clean" covers a lot of ground and I am talking about the same clean amp setting used for all my pickup reviews.  If you are used to a grittier distortion class of pickup, you got it covered.  Otherwise, a slight tweak of the amp or rolling off the guitar's volume will get you there.
Here's a video of Mark playing and talking about the Alpha Omega pickup set:
Bridge
Series – 13.84k, 7.84H
Split N – 6.93k
Split S – 6.93k
Parallel – 3.47k
Neck
Series – 7.73k, 3.62H
Split N – 3.86k
Split S – 3.86k
Parallel – 1.93k
Now that I got you all salivating, lemme break it down for you.  As of now, the Alpha Omega set was a limited run – but we've seen limited runs from this brand before (i.e., Whole Lotta Humbucker? Black Winter?  anyone?  anyone?  Bueller?).  For now, you can always contact La Maestra MJ, the Custom Shop Manager, and she can hook you up with something that will get you to the same goal.  Or maybe you can find an Alpha Omega set floating around here or there – but nope, you ain't getting mine!  LOL!  In the meantime, keep your eyes peeled for an upcoming comparison between some of the pickups associated with the guys in Periphery.
Seymour Duncan Website | Facebook | Twitter | YouTube | Instagram
Periphery Website | Facebook | YouTube | Instagram
Mark Holcomb Twitter | YouTube | Instagram