Dos and Don'ts of Building a Parts Guitar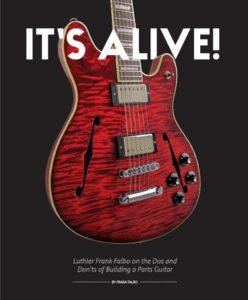 CLICK HERE to check out a great tech article on Building a Parts Guitar in this month's Premier Guitar, written by my buddy Frank Falbo. Frank covers topics that include Choosing Your Parts, Drilling Tips, Pickup and Electronics, and Setup.
You can also enter via Premier Guitar for a chance to win the guitar in the article.
Frank Falbo was Vice President of Product Development at Seymour Duncan from 2007 to 2012. Frank runs his own guitar company, Falbo Guitars – a division of Falbo Designs, a company founded on the notion that the best products exist where innovation and practicality meet.