DiMarzio PAF Joe DP213 Humbucker Pickup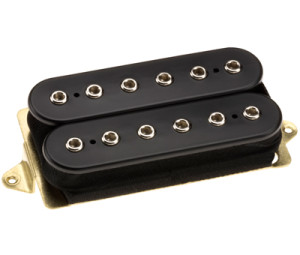 Have you ever wanted a pickup that a lot like a classic PAF but with a little more of that something extra? Of course. We all do, don't we? Thanks to Joe Satriani's discriminating ears and exacting preferences, we have the PAF Joe.
I put the PAF Joe in the neck position of a 2-hum super Strat and paired it up with both the FRED in the bridge position for a bit more of a classic combination and the Mo' Joe in the bridge position for a little more edgier pairing.
This is a solid neck pickup. Like many players, I can find it to be a challenge to find a neck pickup that has a really good blend of articulation in the low end and presence in the highs. The PAF Joe addresses that. The lows are punchy and authoritative without getting throaty.  Yet the highs are sweet and singing without getting soft or rounded. I originally wondered if the coils were offset to allow for the frequencies to interact so well.  But ye olde multimeter indicated the coils were practically identical… leaving the answer to DiMarzio's Virtual Vintage technology. What that means is for another discussion, but it reiterates the value of a pickup company that can work outside the box.
A nice dirty tone delivers a bit of bark and a bit of bite. A good clean amp setting reveals that the PAF Joe can span from warm and full in series mode to more glassy and chimey when split or in parallel mode. In fact, when paired with the FRED in the bridge, going through both in different combinations of split and parallel produce an impressive palette of clean tones that filled any need I was able to consider.
Series – 8.05k
Split – 4.04k
Split – 4.01k
Parallel – 2.01k
T – 6.5
M – 5.0
B – 4.5
Output – 272 mV
Coming soon: a review of the DiMarzio Satch Track neck pickup, the FRED bridge pickup and how all the Satriani pickups work together.  Stay tuned!
DiMarzio Website, DiMarzio Facebook, DiMarzio YouTube, DiMarzio Instagram