Spinner Handles, Deep Sockets and Nut Drivers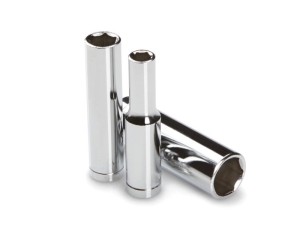 It's that time of the year when many people have a little vacation time.  Between the Christmas leftovers and before the New Years fireworks, what's there to do?  It's a good opportunity to tune up (ha! a pun!) your guitar.  You polish the finish, you clean up the frets, and you even condition the fretboard.  But… is everything tight?
That's right… have you tightened up any loose ends?  The nuts at the output jack and the pots and the tuners and so on.  Back in August, I looked at the ESP Multi Spanner Wrench, which is a great tool to keep in your gig bag.  But do you sometimes want (or need) something that can be a little more specific or even a little more versatile?  You bet that you do!  Don't we all?!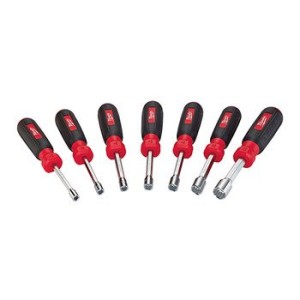 I grabbed a 6″ spinner handle with a 1/4″ drive and some assorted deep sockets.  A 1/2″ socket is great for the nuts on most of the pots and output jacks that I use.  Another example is a 10mm for tightening nuts at the tuners.  I've been phasing out the pots that use a 7/16″ nut, but I have one of those sockets for the ones still in use.  The handle can offer a little more control and the deep sockets allow plenty of room to fit over tuners and pot shafts.
Loose output jacks can allow the connection to get a little dodgey.  A loose volume pot can be an annoying distraction from getting the right notes.  But I think loose tuner bushings can be overlooked by many… it's something that can not only ensure tuning reliability, but it's also an area that can allow valuable resonance to escape.  Keep those bushings tight for more transference of energy.
Now, I went for a single handle with interchangeable sockets.  Some people may prefer a nut driver for each size that they need.  And that's groovy.  Do what you want to suit your needs.  Find your own tune and hum along.