TiSonix Titanium ABR Bridge & Tailpiece Assembly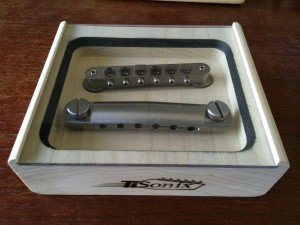 The same masterminds that have been bringing you the titanium double-locking tremolo have done it again. Not to rest on any laurels, the guys at TiSonix have totally dominated any expectations with their new titanium Gibson-style ABR bridge. You'll know when it arrives that you are in for some serious tone… as the case for it is designed and machined better than many actual bridges, it's time to stop your grinnin' and grab your linen.
The stop tailpiece is sleek and defined by a level of precision-machined craftsmanship that doesn't stop at eye candy.  It takes it to the point of making your mouth water for the flavorful tone that your ears will be devouring. Not to tie you down to a single option, TiSonix can provide 5/16″ studs or the 8mm import-style studs. Titanium bushings are also available for those studs.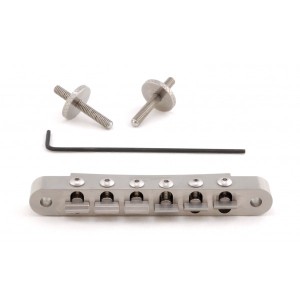 When it comes to awe-inspiring, the TiSonix ABR bridge/saddle assembly compares to none. Your digits will be spoiled simply by handling the bridge right out of the case. You will be hard pressed to find another TOM bridge made with this degree of exactness. The tolerances on the parts are tight enough to make Pamela Anderson's shirt jealous. And check it out….TiSonix has sizings for Kalamazoo or Nashville or metric dimensions, as well as threaded posts for vintage and import.
Sounds like they covered the bases with the different specs to account for just about any need. Something I find really cool is that while you can order a full rig, you can also pick up the titanium ABR bridge/saddle and the titanium tailpiece assemblies a la carte for any specific one-off needs. The titanium bushings and titanium offset posts can also be picked up up separately.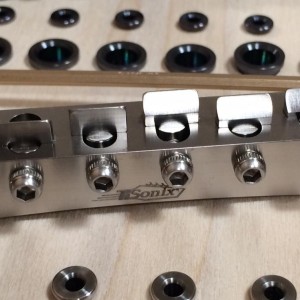 So, you say, that's groovy and all, but how does it sound? If you've ready my other reviews on the testing of other TiSonix products, you may have a pretty good idea. However, if you might be a new to the concept of titanium guitar components, you may have read things along the line of how titanium makes it brighter. I can see where people say that. From what my research on titanium and based on my coversations with the nice people at TiSonix, discussing the solid billet titanium they use, it is my opinion that the transparent tonal nature of titanium simply opens up the natural character that has always been there.
Many of the metals used for guitar bridges can color the natural tone and/or dampen the natural resonance and choke off the natural sustain. When you get rid of those parts and replace it with titanium from TiSonix, made right here in the USA, you better bet it's going to sound brighter and more lively… you've removed all the cheaper material that was killing your tone and holding your sustain for ransom.
A full titanium rig was installed on a guitar with a korina body with an ebony board and Gibson Dirty Fingers. The saddles need to be slotted.  So be patient and consider checking in with a local guitar shop to find someone you are comfortable handling the slotting. For setup and intonation, TiSonix also includes the necessary allen wrenches for adjustments. Remember the aformentioned tight tolerances?… let's say that I'm not expecting any stripped out adjustment holes on this bad boy.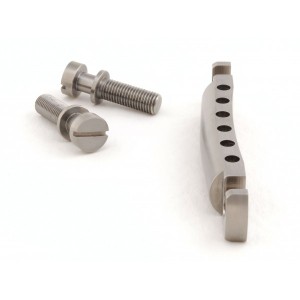 Once up and running, the first thing of note was the enhanced natural acoustic projection of the guitar before plugging in. Which is to say, it's loud! Playing unplugged, you can hear the notes coming directly from the ABR bridge. From there, amplified or unplugged, there is superb note clarity and sustain that pushes the boundaries of physics. The transparency of the titanium opens up the playing to a wider palette of voicings. Clean jazz-influenced chords, soulful blues licks, high-octane rock riffs, blistering metal leads… they all gather around the table for this feast of sonic ecstasy.
What about a live setting? The guitar went out gigging with an internationally-known certified-gold guitarist. The report back was that the assembly is a solid feeling piece with resonance that can be felt, adding a new tonal element. From a player that has access to most any piece of gear he wants, I've been told that I won't be getting the Ti bridge back – ouch!  I think he likes it!  LOL!
In addition to the "natural" titanium look, TiSonix also offers optional Diamond Black and Aural Gold plasma coating.  And check this out, they can also perform laser engraving on parts!  How cool is that?  You can get your TiSonix parts personalized with your name or an image or logo.  TiSonix has always been happy to make sure I'm happy with whatever I buy and they are very receptive to suggestions, which is nice.  Give them a look.